DURABLE Monitor Mounts and CAVOLINE® cable management win in the category "Office and workplace"
"Exceptionally good products" with "outstanding design quality": Two DURABLE tech accessory ranges have convinced the renowned international jury of the Iconic Awards.
The German Brand Manufacturer won the 'Office and Workplace' category at the 20201 Iconic Awards, with their functional Monitor Mounts and its cable management system, CAVOLINE®.
Both ranges have already won several awards, including the German Design Award and the Red Dot Design Award.
"Design plays a major role in the creation of all DURABLE products. We are therefore very pleased that our work has also been recognised by the experts on the Iconic Awards panel of judges", explains Martina Heiland, DURABLE PR Manager. "For us, however, design is never an end in itself, but always closely linked to a high level of functionality, in order to be able to offer particularly efficient, ergonomic and safe solutions for a wide range of working environments."
A good look
With the award-winning DURABLE Monitor Mounts, functional design elements ensure a more ergonomic position for working. The elegant, infinitely variable mechanical elements allow every user to adjust the height and tilt as well as the distance of the monitor according to individual needs. After all, the correct visual distance to the monitor is vital for eye health, an ergonomically correct posture and working efficiently. The positive effect of DURABLE Monitor Mounts on health, wellbeing and performance have been tested by the Institute for Health and Ergonomics (IGR) and confirmed with the "Ergonomic Product" seal.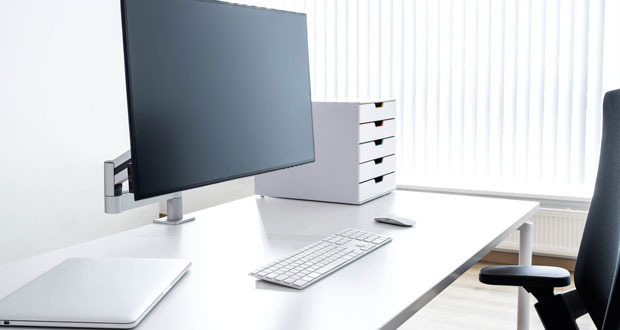 Off to the box!
No more tangled cables! With CAVOLINE®, cables can be tamed, and extension leads are neatly hidden away. The CAVOLINE® box is available in grey and graphite and the two sizes offer enough space for a 3- or 5-socket extension lead. The high-quality design is complemented by smart details such as a round cable opening, soft components to protect cables at inlets and outlets and fire-retardant material.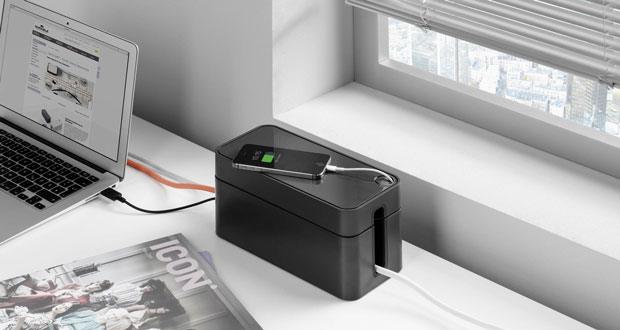 For more information visit www.durable-uk.com
-ends-
To have your industry news published in the pages of FMJ's news section, Month in FM, and here online on fmj.co.uk, please send your news and image to Danny Grange danny.grange@kpmmedia.co.uk
The view or information contained within these unedited press releases, are that of the company producing it and not necessary the views of kpm.