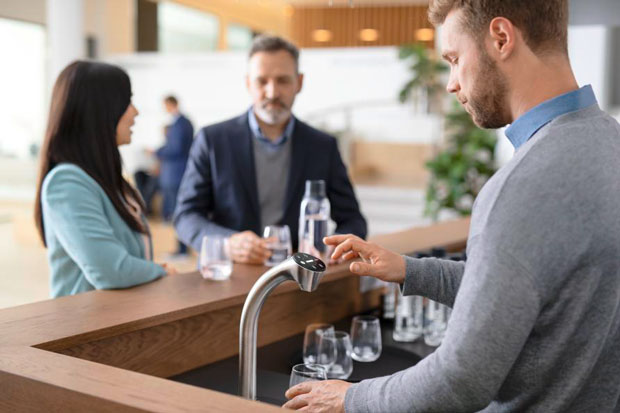 The past two years have given us multiple iterations of a 'new normal', and while many of the imposed rules we had quickly adapted to have now relaxed or disappeared completely – such as mandatory self-isolation and limited social bubbles – it seems that the hybrid model of working is here to stay.
Of course, employees have now grown accustomed to the quirks of homeworking. Many attended virtual meetings formally dressed from the waist-up or apologised profusely for attention-hungry felines invading important presentations. Now that the novelty has well and truly worn off, there's one thing more than half of office workers (54%) can admit – according to new research in BRITA VIVREAU's new Fluid Design report – and it's that their home set-up falls short of standard workplace amenities.
Whether it's juggling childcare responsibilities with appraisals, having to hunch over a laptop while sat on a dining chair or simply not having a separate space to focus in – more than three-quarters (76%) agree that it's harder to maintain healthy habits when working from home. Remote working for many people has led to fewer screen breaks, the inability to carve time aside for a regular exercise routine, an unhealthier diet and – crucially – less hydration.
Room to improve
Now that UK workers are being urged back to their offices en masse, BRITA VIVREAU has teamed up with award-winning office design firm Oktra, to offer businesses expert guidance on how to make this return an attractive option for employees.
The result is a new insights report called Fluid Design, which focuses on how modern office design should reflect the fact that there is no one-size-fits-all solution to staff happiness and productivity. For this very reason, office spaces that can be tailored to individual preferences and requirements have a clear business advantage.
BRITA VIVREAU's research of office workers found that shared space for socialising (38%), ergonomic desk set-ups (38%) and hot and cold beverage amenities (36%) are among the most valued design elements within an office environment. What's more, almost a third of workers say high quality kitchen facilities, like water dispensers, would make working in their office more appealing than staying at home.
Thankfully, adjusting the workplace environment to attract top talent and nurture current teams' relationships with the office doesn't necessitate inconvenient and expensive refits. Top-quality kitchen facilities, such as BRITA VIVREAU's hot and cold beverage amenities, can boost employees' beneficial experience of office life. What's more, they can create comfortable and collaborative spaces for people to connect and relax during the working day.
Liquid assets
Quality drinks facilities have the potential to transform the workplace, especially when there are customisable options.
BRITA VIVREAU's water facilities can be incorporated into a variety of office settings: taps dispensing hot, cold and sparkling water on demand can be incorporated seamlessly into communal office areas such as staff rooms, tea points and kitchens; floor-standing dispensers (with base cabinets that can be branded) are ideal for receptions, hallways and break-out rooms; and for those short on space, countertop dispensers can slot easily into meeting rooms, bench tops and other communal areas.
Updating a workspace's drinks facilities can create value for employees that should not be underestimated. Well-placed water dispensers around the office not only encourage screen breaks and team-building water point conversations, but they will also help workers regain a sense of wellbeing. Rebuilding and maintaining a plethora of healthy habits will keep their physical and mental health in check, boost employee engagement and power productivity.
BRITA VIVREAU's adaptable water dispensers generate simple, hygienic access to unlimited still, sparkling and hot water at the touch of a button – regardless of accessibility needs. They are everything that a modern workplace should now be: customisable, inclusive and innovative.
In addition to the direct benefits employees will experience, with more businesses than ever before wanting to align their core values with genuine sustainable messaging, energy-efficient water dispensers and coolers are an ideal way to cut out waste and emissions associated with the manufacture, transport and disposal of single-use drinks packaging.
Having immediate and unlimited access to filtered water in a variety of temperatures and carbonation levels has the potential to boost your business – from sparking the next big idea from your employees over a chance encounter as they re-fill water bottles, to improving their problem solving thanks to better cognitive function via hydration.
A better-hydrated, more socialised team will feel their work-life balance is back in order after so much upheaval. And when research suggests that more than nine out of 10 (93%) of office workers would be more likely accept a job with an appealing work environment, a quality drinks offering could be the deciding factor that encourages the best candidates to apply for a position.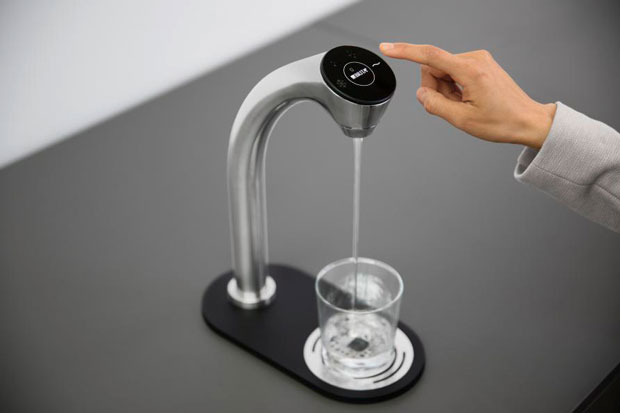 To discover you can maximise aspirational and functional design to power productivity in your workplace, download the BRITA VIVREAU Fluid Design report today.
-ends-
To have your industry news published in the pages of FMJ's news section, Month in FM, and here online on fmj.co.uk, please send your news and image to Danny Grange danny.grange@kpmmedia.co.uk
The view or information contained within these unedited press releases, are that of the company producing it and not necessary the views of kpm.