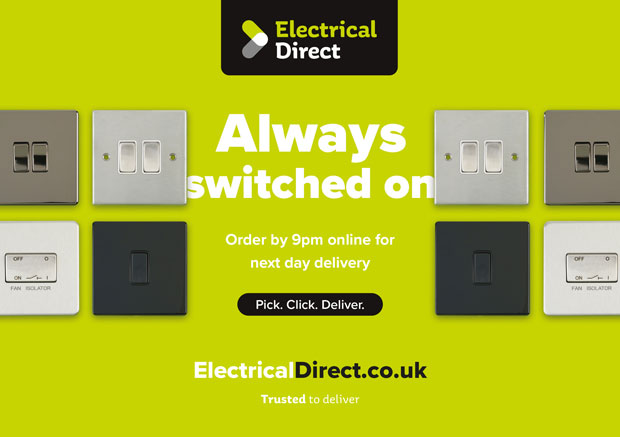 ElectricalDirect is powering into 2022 with a new brand campaign. Under the headline, 'Always Switched On', the company will be supercharging its activity with a multi-channel advertising campaign that will include, radio, PR, social media and more that highlight the specialist supplier's fantastic reasons to shop and 'trusted to deliver' company promise.
As a retailer unconstrained by store opening times and 'always switched on', ElectricalDirect is launching a schedule of exciting activity that raises awareness of the benefits trade professionals experience when shopping with the online specialist.
Backed with engaging, creative adverts and playful straplines, the campaign will highlight how tradespeople can enjoy around the clock browsing of ElectricalDirect's huge range of over 12,000 stocked electrical products, as well as its wide choice of flexible delivery options, exceptional customer service and easy free returns policy.
On the campaign, Dominick Sandford, Managing Director at ElectricalDirect, said "We are really excited to launch our new brand campaign that emphasises all the things that set us apart: 24-7 access to thousands of electrical goods to 'pick and fuse from', competitive prices and delivery any 'switch' way you like! Including next day and Sunday deliveries, as well as Click & Collect to 6,500 local shops and same day delivery to postcodes in selected areas of London and the East of England."
Dominick continued: "Our 'Always switched on' campaign tagline encapsulates our business strategy and offering as an online retailer. Our easy to use website is packed with information including product specification sheets, technical documents, buyers guides and helpful blogs – all backed by our fantastic and dedicated customer service team who are on hand seven days a week to assist with orders or delivery enquiries."
For more information about ElectricalDirect and to explore its range, visit www.ElectricalDirect.co.uk.
-ends-
To have your industry news published in the pages of FMJ's news section, Month in FM, and here online on fmj.co.uk, please send your news and image to Danny Grange danny.grange@kpmmedia.co.uk
The view or information contained within these unedited press releases, are that of the company producing it and not necessary the views of kpm.