Special Mention Award 2021 for the design concept and its execution
The German Design Council has recognised the new groundbreaking Monitor Mounts from DURABLE in the German and international design landscape and will be awarding the German Design Award 2021 Special Mention. This means that the German brand manufacturer has once again received this internationally renowned award. The DURABLE Monitor Mounts convinced the top-class jury with their consistent design concept and its stringent execution. "We are very pleased that we are once again among the winners in one of the most important competitions for product design," explains Martina Heiland, DURABLE PR Manager. "DURABLE develops innovative solutions for the modern working world. The various awards – of which we have won over 100 in recent years – confirm that we are on the right track and that our products are both future-oriented and sustainably designed," reports Martina Heiland.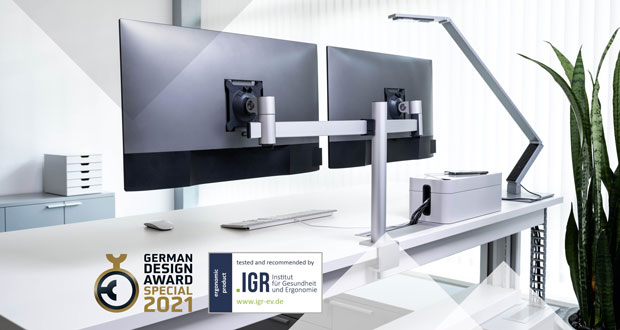 Functional design elements for more ergonomic screen work
The new DURABLE Monitor Mounts allow the height, tilt and spacing of the screens to be adjusted to individual requirements. Thanks to the patent-pending system, individual adjustments can be made continuously and without effort. This ensures the correct viewing distance is always achieved to enable more ergonomic and economical work. The Institute for Health and Ergonomics (IGR) has awarded the Monitor Mounts the "Ergonomic Product" seal of approval for their positive effect on health, well-being and performance at the workplace.
The Monitor Mounts not only facilitate screen work in the office and home office, but they are also suitable for various modern work concepts and environments. For desk sharing, it just takes a few simple steps to adjust the screen to suit the user.
At sitting/standing workstations, the Monitor Mounts enable immediate adjustment of the monitor positioning, because in addition to height, the angle of tilt is also decisive for the correct viewing angle.
For more information, see www.durable-uk.com
-ends-
To have your industry news published in the pages of FMJ's news section, Month in FM, and here online on fmj.co.uk, please send your news and image to Danny Grange danny.grange@kpmmedia.co.uk
The view or information contained within these unedited press releases, are that of the company producing it and not necessary the views of kpm.