Stuart Hands from Tork manufacturer Essity looks at how public washrooms can be configured to ensure that people feel safe; while Paul Swift of hygiene services company Elis, outlines ten simple questions that business can ask themselves to help improve their washroom hygiene
Once again, we are all emerging back into the world after a national lockdown. There is a collective feeling of deja vu as we head back into offices, shops, restaurants, stadiums and town centres after months spent confined to our houses.
And just like last year, various strategies are being employed to ensure our safety and instil public confidence.
Publicly-used washrooms are a particular area of concern as the world reopens. Many people are nervous about using away-from-home toilets at the best of times either for fear of picking up an infection or because they feel uncomfortable about sharing an intimate space with strangers.
Ministers had a clear strategy for reopening washrooms at the end of Lockdown One. In summer 2020, Local Government Minister Simon Clarke and Environment Minister Rebecca Pow came up with a number of recommendations in a letter addressed to councils.
These suggestions included the use of signs and posters to promote good handwashing practices and the introduction of floor markers to encourage social distancing.
A "one in, one out" strategy was mooted along with moves to enhance ventilation and increase cleaning frequency. And it was stressed that hand hygiene facilities should be made freely available in the form of running water, liquid soap and a suitable hand drying option.
All these recommendations made sense in a world where a deadly virus was thriving in stuffy, indoor environments where people gathered closely together. But the implementation of some of these measures only served to heighten people's anxiety levels, which were already running high.
Stark reminders to hand-wash and adhere to one-way systems created a general sense of unease. Some washroom managers attempted to enforce social distancing by taping off alternate wash basins and urinals. But this gave a "crime-scene" feel to the premises which was hardly likely to reassure an already nervous washroom user.
The suggested "one in, one out" strategy made sense, but it was often hard to tell from the outside whether or not anyone was already inside the premises. This led to frustrated people forming queues outside empty facilities.
In some cases, a green/red indicator – either an electronic version or a manual slider – was used to designate occupation status. Washroom visitors were asked to switch the display to red on entering and green when they exited, but many either forgot to do so or left the indicator switched to red to avoid touching a potentially-contaminated slider after washing their hands.
REOPENING STRATEGIES
So as we open up our facilities once again, it is clear that this time around our washrooms need to combine positive messaging with workable strategies in a pleasant and reassuring environment.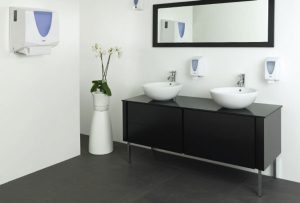 Obvious signs that facilities are being well managed and safely run will have a more positive effect than dire warnings about COVID-19. Where details of cleaning schedules are clearly displayed this will instil confidence in the visitor, particularly if the messaging includes contact numbers to allow people to report any run-outs or other hygiene issues.
Doors and windows should be left open where practically possible to improve ventilation and to allow visitors to tell whether or not anyone else is inside. Hand sanitiser dispensers placed at washroom doors will act as an extra safeguard upon leaving the premises, and a continuous supply of soap and paper will prevent people from having to waste time hunting for a cubicle with toilet paper or a sink that has a soap supply.
Hand hygiene is crucial after using the toilet. All the advice states that the hands should be washed for at least 20 seconds to keep people safe from COVID-19. While this practice cannot be sped up, easy-to-use systems that allow for a swift washroom throughput will enable people to exit more quickly.
The provision of hand towels makes sense in a world where social distancing, visitor confidence and a speedy throughput are all of paramount importance. We are now being faced with a situation in which fewer people are allowed to use the washroom at once to facilitate social distancing. But we are also expected to wash and dry our hands for longer and more thoroughly to keep ourselves COVID-safe.
It is possible to extract hand towels from the dispenser and use them on the go, whereas air dryers require the visitor to remain in situ while the air does the work for them. And this could lead to queues, logjams and an increased level of risk.
COVID-19 has made all of us more nervous about touching washroom fixtures and surfaces and this has led to an increased use of touch-free taps, flush systems and dispensers. It has also made people more reluctant to touch cubicle door handles and outer door panels.
According to a United Minds survey carried out on behalf of of Tork, an Essity brand 38 per cent of UK survey respondents say they are less likely to visit places that do not offer paper hand towels as a hand drying alternative. When asked specifically about hand drying, 59 per cent of the survey respondents said they wished more facilities offered paper towels as an alternative to air dryers. And nearly 29 per cent expressed a new preference for hand towels in the wake of the pandemic.
There are several other ways in which washroom use can be sped up while providing a reassuring environment for the public. Bins placed near the exits will enable visitors to withdraw a towel from the dispenser and move away from the unit, drying their hands as they go.
The provision of a hand sanitiser dispenser outside the washroom will offer visitors an extra level of protection while helping to prevent bottlenecks and logjams. And a mini hand towel dispenser by the outer door will encourage people to use a towel as a barrier when using the door handle, while the removal of mirrors from sink units will discourage people from lingering.
Many restaurants and bars now offer the facility to order food or drinks via an app. It therefore seems a logical step to add a "virtual toilet queue" function to these apps to prevent people from having to form physical queues.
It is not surprising that some people still feel wary of re-entering shopping centres, stadiums, gyms and restaurants after so many months spent in lockdown. It is therefore crucial to rebuild public confidence and ensure visitor safety by coming up with practical and workable washroom strategies.