CONFIDENT CONVENIENCES
1 – How clean and tidy does your washroom look?
Employees want to feel confident that the washroom is being cleaned regularly and properly. Consider improving your cleaning regime and its frequency and communicate these improvements to your employees.
Are the hand washing and drying options working? If you have over-flowing bins and messy dripping soap dispensers, these can be rectified easily. A larger bin, or more frequent emptying may be required, or you could consider a sustainable cotton roller towel or an efficient electric hand dryer. For a mess-free basin area, there is a wide range of anti-drip soap dispensers available.
2 – How does your washroom smell?
Making sure your washroom passes the 'nose test' is really important. Regular cleaning and waste disposal are key, but it's also easy to add effective air freshening or air purifying.
Wall-mounted air freshening units can either gradually release essential oil fragrances within the unit itself or spray a dry fragrance at times to suit the business.
There is also the option to use a small air purification unit to purify the air, killing bacteria and viruses and eliminating odours, without the need for chemicals or fragrances.
3 – Are you providing the best soap for your employees' needs?
We are all washing our hands more frequently, but are you providing the most appropriate soap for your employees? There is a wide choice of liquid and foam soaps available, designed to meet the requirements of different business sectors. They include sanitising soap for the food industry, heavy duty cleaning soap for the removal of oil and grease and gentle hand soap that also kills bacteria.
4 – Are you providing adequate hand drying facilities?
Did you know that damp hands can spread more germs? It's more important than ever to provide hand drying solutions that work for your employees.
There are three main options available: electric hand dryers, paper towel and cotton roll. Each have their own benefits, so it's worth getting advice on what would be right for your business.
Electric dryer options include fast and quiet dryers, with no-germ HEPA filter and antimicrobial coating, and taps that wash and dry. Paper towels are available folded or in rolls, and cotton roller towel comes in a dispenser that keeps the used and fresh towel separate, with the complete roll re-used after going through an industrial laundry process, for a more sustainable alternative.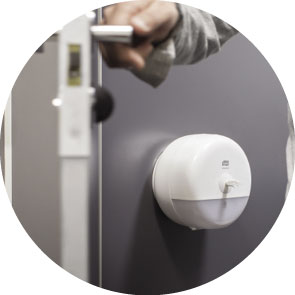 5 – Are you maximising hygiene with no-touch equipment?
It's easy to minimise touch-points in the washroom. Options include no-touch soap and sanitiser dispensers which automatically dispense when hands are placed underneath, as well as no-touch electric hand dryers, paper towel dispensers and feminine hygiene bins.
6 – Are you providing hand sanitiser in washrooms and other key locations around the business?
It's important to provide hand sanitiser in washrooms and other key locations around the business, such as reception areas. Consider using a free-standing hand sanitising station, with no-touch, anti-drip sanitiser dispenser to make it easier to position exactly where it's needed.
You can also increase hygiene in other areas by, for example, providing safe seat sanitiser in toilet cubicles: a sanitising foam that is used, with toilet tissue, to sanitise the toilet.
7 – Is your washroom always well-stocked and tidy?
Empty soap dispensers and cubicles with no toilet tissue, are common frustrations for employees and, along with overflowing bins, can give the impression that the washroom isn't properly maintained.
There are many ways to make it easier to keep the washroom clean and functioning and reduce the time spent doing this. These include using long lasting soap and sanitiser dispensers with easy to use, refill pouches, so there is no difficult filling from a bottle, and dispensers that feature an anti-drip system for cleaner surfaces. Toilet roll dispensers can feature practical inspection windows, to see when they are almost empty, and easy opening for replacement. It can also help to use a washroom service, such as that provided by Elis, with replacement products provided during regular, scheduled service visits.
8 – How good is your feminine hygiene system?
Employers have a duty of care to provide feminine hygiene disposal facilities, and it's important to encourage use by ensuring that sanitary bins are as pleasant to use as possible.
Employees will appreciate pedal or no-touch opening and biological germicidal sachets, which inhibit bacterial growth and prevent odours.
9 – Do you have hygiene reminders in your washroom and around your business?
Posters on good handwashing technique can be a useful reminder for employees, as well as helping to communicate that you are taking hygiene seriously.
There are also simple ways to remind employees to practice social distancing around the business, such as message mats which feature simple social distancing messages and also help to keep floors clean and safe.
10 – How sustainable is your washroom?
Sustainability is of increasing importance to both employees and customers, so it's worth considering if you could make your washroom more sustainable.
Choose a range that uses environmentally friendly materials with paper consumables that are Ecolabel certified. Hygiene waste can be diverted away from landfill to power generation and soap and sanitiser refill pouches can minimise waste and be recycled. A washroom server provider, like Elis, can also help businesses reduce their washroom water usage.