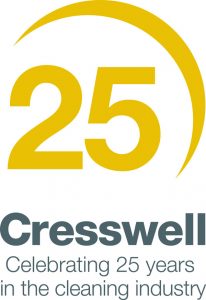 In what has been a very difficult and tough year for the economy and businesses in general, it is remarkable that Cresswell Office Services is reaching an outstanding milestone year by celebrating 25 years in the cleaning industry in 2020.
This year has been a tough one for the cleaning industry, as even after lockdown from the Covid-19 pandemic, a large number of buildings remain closed to staff, but well-established contract cleaning and building maintenance company, Cresswell Office Services has continued to carry out deep cleans throughout and now celebrates this significant achievement.
The business, which was founded and set up in 1995, still notably remains independently owned. It is located centrally in Surrey Quays, London and has both an Industrial and Commercial division, with clients coming from a variety of businesses and backgrounds. Regularly having been a finalist in the prestigious Kimberly-Clark Golden Service Awards, the company is also both ISO9001 & ISO14001 accredited.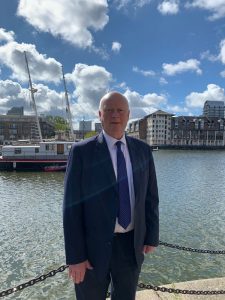 David McLeod, Founder and Managing Director originally set up the company from a small office in Blackheath having spent his whole working life in the service industry. He has a wealth of experience in the cleaning industry with over forty years of management and operations experience dealing with clients and suppliers.
David says, "Passionate about first class customer service, Cresswell's growth to become a long-established and well-respected business in a competitive environment has been due to listening to its clients and the dedication of its staff. This industry has changed through technology but meeting and exceeding the expectations of our customers has been a central focus of Cresswell Office Service's efforts over the last 25 years and a large number of clients have been with us for many years. We are very grateful for that and we would like to thank them for their loyalty in these tough times."
For more information about Cresswell Office Services go to www.cresswellservices.co.uk or email info@cresswellservices.co.uk alternatively, please call on 020 7252 1101.
-ends-
To have your industry news published in the pages of FMJ's news section, Month in FM, and here online on fmj.co.uk, please send your news and image to Danny Grange danny.grange@kpmmedia.co.uk
The view or information contained within these unedited press releases, are that of the company producing it and not necessary the views of kpm.