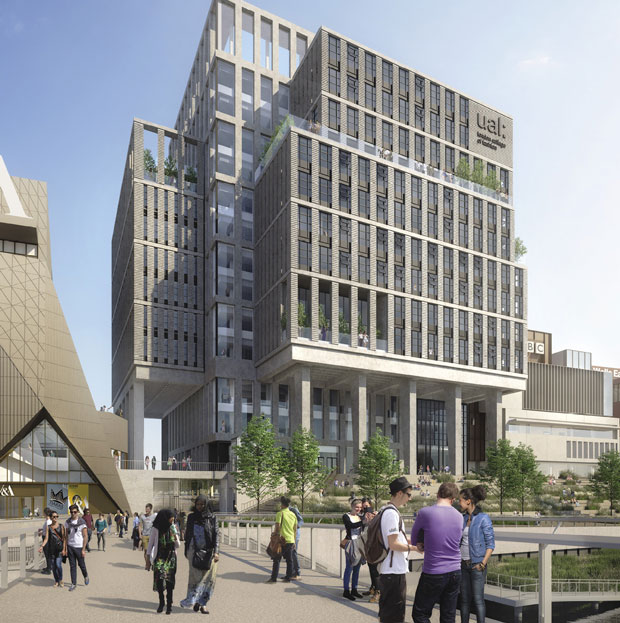 London College of Fashion, part of University of the Arts London (UAL), is moving from six separate buildings to an inclusive and sustainable new single site in 2023. Sara Bean took an exclusive tour into the heart of the innovative new building with members of the project team at Buro Happold and UAL
London College of Fashion (LCF), UAL leads the world in fashion business, media and design education. They've been nurturing creative talent for over a century, offering courses in all things fashion. Throughout its history LCF has been spread out across six London sites, but all that will change in 2023 when the college moves to a single campus for the first time.
Their students will have access to multipurpose lecture theatres and studios, galleries and interactive showcase areas. They will also benefit from being located at London East Bank's inspirational new culture and education district in the waterfront area of Queen Elizabeth Olympic Park, where LCF's new building will sit alongside other creative luminaries including the BBC, Sadler's Wells and V&A East.
Global engineering consultancy Buro Happold, has been working on key projects in and around the area since its involvement with the 2012 Olympic Games and its legacy planning. As part of a design and delivery team including (Architects) Allies & Morrison; (Cost Consultants) Gardiner & Theobald and (Construction Project Managers) Mace, it is providing a range of integrated solutions to help deliver the project.
Says Damian Wines, Associate Director – Buro Happold: "Previously we'd worked on the Olympic Park and the stadium. We started the East Bank project around six years ago and following a long design phase, we've been working onsite on this project for around two years."
At its completion, the building will provide 36,000m² of teaching, learning and practical facilities across 15 floors, bringing together 6,500 students and staff from six sites into one campus. An important proviso for the project is in ensuring the building remains on track to achieve a BREEAM Outstanding certification as stipulated by clients LLDC and their partner London College of Fashion, UAL.
Explains Ian Lane, Associate Director (Sustainable Operations) – University of the Arts London: "BREEAM outstanding was something we called for in the design brief and I think we'll be able to prove through this building that if you put that into the brief from day one it can be achieved without any identifiable additional costs."
The Buro Happold team was challenged to develop a framework to achieve the BREEAM goal within a building that will offer a complex range of facilities accommodating many different uses and specialist spaces, for instance, technical workshops for printing, prosthetics, hairdressing and textiles. To achieve this – the Buro Happold team, its clients and end users have worked together to map out the use of each space over typical days and semesters to create an accurate energy model that provides the best range of services that will help promote workflow and creativity.
Explains Wines: "Stage 2 describes the early design stage, which is benchmarked, but at stages 3 and 4 you go into the detail of the use of the space. For example, how the building is going to be used. If the students have a typical 10-week semester, during the early stages of the semester some areas are used less frequently, but towards the end of the 10 weeks, the students might have exams and assignments and may use certain spaces more intensively – so all this information was agreed and discussed with UAL to help inform the running of the building."
Wines adds: "Daylighting is absolutely key to achieve the carbon savings on the plan, but also for health and wellbeing so we measured glazing ratios, as there's always a challenge between enough open windows and glazing to get the natural ventilation to work and too much sun, which is why we carried out an overheating analysis, a glaze analysis and a glare analysis."
Following extensive modelling and analysis, a 22 per cent reduction in carbon dioxide emissions has been achieved, as well as a 19 per cent reduction in embodied carbon over a 60-year lifecycle. As Lane explains, the idea is to not only ensure sustainability targets are met within the design and construction phase, but crucially throughout the lifecycle of the building. UAL were insistent that lifecycle modelling adhered to CIBSE's Technical Manual 54 to ensure there was little or no performance gap from design to operation.
He says: "At this stage we've got one of the largest naturally ventilated educational buildings in London and we've proved the concept that you can do natural ventilation in a city, so this is a celebration of that concept, but it's not fully proved until it's in use.
"We set out quite clearly at the beginning what we wanted to achieve and there hasn't been any ambiguity about that. As we said on day one we want to achieve BREEAM outstanding, and we want as much natural ventilation as possible. If we'd introduced those things halfway through the design that would have led to confusion. We arrived here [on site] with a fair level of confidence that these things were achievable as they're goals set out at the very beginning."