With many commercial buildings standing empty for weeks on end, there is growing evidence that rodent problems could escalate. Pest control specialists outline the problem and describe how the latest digital solutions could provide a solution
PAUL BLACKHURST, HEAD OF TECHNICAL ACADEMY FOR RENTOKIL PEST CONTROL ON THE SCALE OF THE PROBLEM
Rodents are traditionally timid creatures, are nocturnal and prefer to stay sheltered or out of sight from potential predators. But since the implementation of social distancing and lockdown measures, there has been an increase in reports of rodents changing their behaviour. Recently, the US Centre of Disease and Control reported(i) a rise of cannibalism and infanticide among the rat population of New York, and National Geographic(ii) suggested rats are becoming bolder and increasingly spotted in daylight. This is likely due to the fact there are fewer people around in town and city centres, commercial centres etc where rodents are attracted by easy access to food.
In the UK, residential rodent enquiries to Rentokil reached record levels for the months of March and April; a time in which rodent enquiries traditionally decline as the weather warms up. While the 45 per cent surge in enquiries over the lockdown period can partly be attributed to more people noticing rodent activity while they may be working from home, there's a longer-term trend that we believe is contributing to the rise. Warmer winters are allowing rodent populations to survive the colder months which usually curtail population numbers, and the warmer weather is also meaning rats and mice are potentially producing more litters in a season.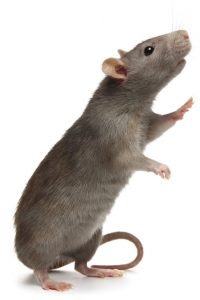 The residential enquiry figures are a warning sign to many of those responsible for commercial premises that have remained unoccupied during the government's lockdown measures. Empty buildings can be a haven for rodents to flourish unchecked, providing safe harbourage and often a source of food as well. Facilities managers may be wise to re-think their preventative pest control strategies, whether they are partially operational or are in the process of reopening, as the lockdown is eased."
As more businesses look to resume operations, social distancing and hygiene in their premises need to be prioritised. Facilities managers, particularly those responsible for hygiene and maintenance in office buildings that have been vacant for the past few months, will want to ensure that pests haven't moved in while their occupants have been working from home.
Rodents are opportunistic creatures and will always be attracted to buildings as they typically provide shelter, an abundance of water and food, and many small, convenient spaces for them to hide. Fortunately, there are steps businesses can take to prevent rats and mice from taking up residence in the first place.
USING TECHNOLOGY TO FIGHT RODENT INFESTATIONS REMOTELY
Businesses are increasingly turning to digital technologies to address pest issues as they provide continuous site surveillance to help inform pest prevention strategies. Connected and fully integrated pest control solutions can act like rodent burglar alarms that provide more insight into rodent activity than ever before. Connected devices send an alert to a technician when a rodent is detected. It can also determine exactly where in the building, and when, a pest has triggered an alarm. The technician can then visit the premises to dispose of the pest and address the root cause of the pest problem.
With a digital pest control system operating as your eyes and ears on the ground 24/7, there is no need to schedule unnecessary additional visits from a technician. The deployment of digital technologies enables businesses and pest control teams to monitor rodent activity remotely, reducing the risk of a rodent infestation occurring and safeguarding premises, ready for when employees begin to return to the workplace.
UNPRECEDENTED INFORMATION ON PEST BEHAVIOUR
Rodents are nocturnal creatures who come out of their hiding places at night in search of food and water. We analysed the trigger information from over 7,000 of our PestConnect systems(iii) deployed across the country and found that the most common time a rodent activated the digital pest management system in an office setting was 0.36am – a time when even the most dedicated worker is unlikely to be in the premises.
While it is useful to know when rats and mice are most active in the office, the system can also accurately tell you where in the building rodent activity has occurred. This can help facilities managers to find those hidden entrances and hiding places that may not otherwise be discovered without the insights provided by this digital technology. From there, they can adjust their course of action and become really targeted with their pest prevention strategies. For example, analysis of data found that 30 per cent of rodent infestations in warehouses and distribution centres originate in the loading bay area. The likely explanation is that the rodents enter the premises while the loading bay is open, but not in frequent use. This intelligence can be used by a facilities manager to institute a policy to close the loading bay entrances in off-peak periods or install further pest proofing solutions.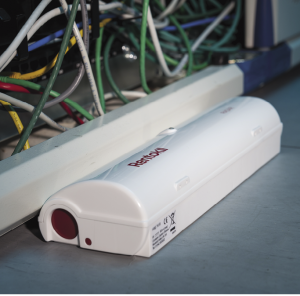 For example if there are concerns that the loading bay area is the source of a pest problem, there are products that can prevent rodents accessing a site through dock levellers.
Harnessing the latest technological breakthroughs and innovations, digital pest management solutions can help businesses manage and prevent infestations without causing harm to the environment, and with a level of efficiency and visibility not possible without connected solutions.
While deploying digital technologies on premises is now widely considered an integral part of a building's pest control strategy, it is also important that the right protective measures are put in place to stop rodents entering the building in the first place. Once rodents gain access to a facility, they can be very difficult to control. For example, a mouse can survive on as little as three grams of food per day and eat from up to 70 different sources of food within 24 hours. So it's important to make sure any food stored onsite is properly sealed in containers, or is thrown away in tightly sealed bins as rodents can easily tear through bin bags.
Mice can also fit through a hole as small as the width of a biro, and rats have been known to enter buildings through damaged drains. Building and facilities managers should ensure gaps around the building's exterior are sealed with wire wool, caulk, metal kick plates or cement.
It's always far easier to prevent rodent populations becoming established in the first place as opposed to dealing with an infestation, and a proactive, digital pest management strategy will mean that costly infestations are much less likely to disrupt your business.
Digital pest control solutions provide an unprecedented level of insight for facilities managers, so they can create a highly effective pest management strategy that complies with all health and safety legislation, minimises technician call outs, and reduces a business' environmental impact with the amount of pesticide laid on site.