Bus operators, brick manufacturers and banks – they are all benefiting from a Covid-19 disinfection and testing service from SafeGroup designed to get businesses back to work safely and smoothly.
The emergency soft FM specialist has combined its expertise in bio-hazard cleaning with the use of an innovative disinfectant system proven to provide long-term protection against the virus.
This is giving facilities managers a service that significantly enhances workplace safety and – critically – delivers maximum assurance about efforts to tackle Covid-19 in a way that underpins wellbeing and workforce trust.
For many businesses, SafeGroup is a key recovery partner. Its specialist services are integrated with in-house measures, including social distancing, to provide enhanced Covid-19 protection for as long as it is needed.
The Back to Business Clean and Safe service is a three-step cleaning, disinfection and testing response to the major challenges facing businesses as they leave lockdown and reopen their premises.
Step 1 – Deep Clean: a full and thorough mechanical clean of premises using professional techniques and chemical products to create a clean and fresh workspace.
Step 2 – Treat and Protect: SafeGroup is treating premises with a revolutionary broad-spectrum disinfectant proven to be >99.99% effective against Covid-19 and which remains active against the virus for up to 30 days. The product is delivered using an electrostatic spray which maximises coverage and bonding.
Step 3 – Testing: SafeGroup is offering a multi-site Covid-19 swab testing service, with results returned by the scientific laboratory within 72 hours.
Nick Henderson, Business Continuity and Resilience Manager for London Stansted Airport, said: "We needed to respond quickly to reassure passengers and staff that decisive action was being taken on their behalf. SafeGroup's decontamination service has been an important component of our strategy."
Amy Harris, Group Health, Safety and Training Manager for brickmakers Michelmersh, said: "SafeGroup's Covid-19 treatment service has become a key part of our strategy to maintain a low-risk environment and has been welcomed openly by all our staff."
Craig Keates, Facilities Manager at Cygnet Health Care, said: "SafeGroup provides the best in market disinfection service we need 24/7. Our staff and clients have full peace of mind that we are doing everything we can to keep them safe."
SafeGroup Chief Executive Office Steve Broughton said: "Our customers recognise they have a duty of care to ensure their workplaces are safe and clean. They must also address the very real wellbeing and mental health concerns of their employees and customers.
"Risk assessment of return to work plans are addressing all these issues, along with regulatory requirements that will be tested over the months to come. Our Back to Business Clean and Safe service is provide facilities managers with key solutions."
All three service elements are carried out to an exemplar standard, including the use of full microbiological PPE where necessary. They are backed by a certification scheme so organisations can inform staff and customers of the actions taken to counter Covid-19 and treatments can be tracked.
Employers using the service include manufacturers, logistics specialists, care providers, hospitals, and schools.
SafeGroup Strategic Development Director Chris Macdonald said: "Our discussions with businesses tell us that they see making sure employees having confidence in workplace hygiene standards as being a critical priority as the Covid-19 lockdown ends.
"This is a key reason why we're offering the Covid-19 testing service and why our services are enthusiastically welcomed by customers. We can give businesses evidence that the risk of Covid-19 in workplaces is absolutely minimised."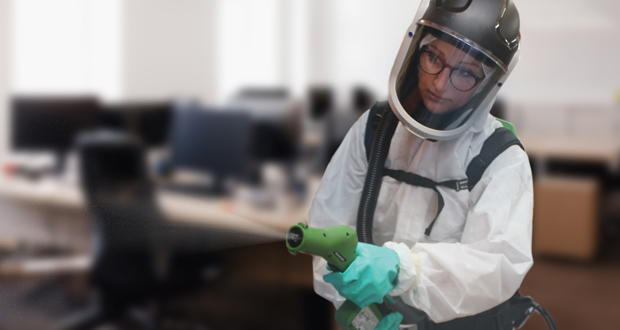 For more information visit www.thesafegroup.co.uk, email backtobusiness@thesafegroup.co.uk or call 0800 668 1268.
-ends-
To have your industry news published in the pages of FMJ's news section, Month in FM, and here online on fmj.co.uk, please send your news and image to Danny Grange danny.grange@kpmmedia.co.uk
The view or information contained within these unedited press releases, are that of the company producing it and not necessary the views of kpm.