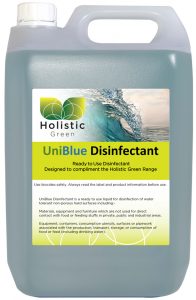 Holchem, the leading provider in hygiene technology solutions, has extended its Holistic Green range of products with the launch of UniBlue Disinfectant.
The new technology used in the formulation of the product is based on natural, organic acids and is not classed as environmentally hazardous.
UniBlue Disinfectant is effective against MRSA and Norovirus and is designed for the foodservice and facilities sectors in indoor use on furniture and surfaces, fixed panel equipment and other kinds of non-rinse/washable equipment i.e. control panels and walls floors and hard surfaces in food preparation and public areas.
It is an easy to use, broad spectrum product which can be used in all environments. When using surfaces or items should be cleaned with a suitable detergent before applying UniBlue Disinfectant by spray application (or immersion of small items) such that the surfaces are fully contacted with the liquid. The liquid should be left in contact with the surface for a minimum of one minute for bacterial decontamination or two minutes for virucidal decontamination. After disinfection, surfaces may be allowed to drain / air dry, then wiped with a clean cloth, or to reduce the risk of carry-over be rinsed with potable quality water.
Commenting on the launch of UniBlue Disinfectant Nicole Thompson from Holchem said: "There is a green revolution in the field of hard surface disinfection and UniBlue Disinfectant extends Holchem's very successful Holistic Green range of products that are being used with great success in the hospitality, foodservice and facilities sectors. The fact that it's effective against MRSA and Norovirus gives reassurance to the user that it will deliver the results needed."
The existing range of Ecolabel accredited Holistic Green products includes:
Washing Up Liquid Concentrate – Ecological Hand Dishwashing Liquid. Safe to use on all materials. One 2×5 litre pack of concentrate will provide over 1300 in use solutions in a typical 15 litre sink.
All Purpose Cleaner Concentrate – Ecological All-Purpose Cleaner. Suitable for cleaning all hard surfaces.\n
De-greaser Concentrate – Ecological Degreaser. Suitable for cleaning all hard surfaces and floors. Removes fats, oils, grease and difficult soiling.
Washroom Cleaner Concentrate – Ecological Washroom Cleaner. Suitable for use on all washroom surfaces, including floors, urinals, toilet bowls and showers.
Toilet Cleaner RTU – Ecological daily use Toilet Cleaner. Ready to use product suitable for daily cleaning and refreshing toilets.
Dispenser Pack – dispenser pack containing 2 x750ml trigger bottles and 1 x 15ml pelican pump. This pack is available for All Purpose Cleaner Concentrate, Degreaser Concentrate and Washroom Cleaner Concentrate.
For more information visit www.holchem.co.uk, email info@holchem.co.uk or call 01706 222288.
-ends-
To have your industry news published in the pages of FMJ's news section, Month in FM, and here online on fmj.co.uk, please send your news and image to Danny Grange danny.grange@kpmmedia.co.uk
The view or information contained within these unedited press releases, are that of the company producing it and not necessary the views of kpm.