FMJ reports on a range of views from the cleaning industry on the effects the COVID pandemic has had on this most essential of services and how it might have irrevocably changed the way the sector is viewed in the future
A British Cleaning Council(i) (BCC) audit of its members(ii) carried out a couple of months ago, highlighted the many ways that organisations and individuals have adapted to the major changes brought by the Coronavirus. A consistent theme throughout was praise for the dedication shown by cleaning and hygiene operatives in protecting the health and wellbeing of others and keeping key industries going since the pandemic began.
The Association of Healthcare Cleaning Professionals (ahcp)(iii) represents many of the cleaning and hygiene key workers who have been on the frontline fighting the virus. Delia Cannings, ahcp National Lead for Education and Training, said: "Cleaning operatives in the healthcare sector played a key role during the pandemic and have done an incredible job, with many going above and beyond, working longer hours, taking on extra responsibilities and adopting new standards and practices to prevent COVID-19 contamination.
"Ahcp members played a vital role getting the Nightingale Hospitals set up and staffing them and will continue to operate them in the coming months as we strive to recover and avoid spikes in Coronavirus cases."
BCC members have also lent some insights into the effects the crisis has had on cleaning services and supply. Lauren Kyle, representing the Business Services Association (BSA) said: "Our members operate in a wide range of sectors, some of which, such as sports and leisure, transport, and retail – have seen a downturn, while others – such as schools, and hospitals – have seen heightened demand for cleaning and disinfection.
"In the longer term, FM industry insights suggest that corporate clients will look to review and rationalise property portfolios to adapt to an increase in agile working, with many employees working more from home. This indicates that there could be changes in the delivery of day-to-day cleaning at client sites in the long term, as they review their use of space."
Dominic Ponniah, CEO Cleanology reports that his organisation is: "Already seeing clients requesting four-day per week cleaning, with whole companies working from home at least one-day per week. Office space is being reconfigured to have less desks, with more space around them, and the introduction of more collaborative meeting space. The old offices where people were crammed in like sardines will become a thing of the past."
CLEANING CONTRACTORS
Jim Melvin, a Director at the Cleaning and Support Services Association (CSSA) and Deputy Chair at the British Cleaning Council commented on the uncertainty the pandemic has created among cleaning contractors. He warned that the Coronavirus has changed the contract cleaning market significantly.
"A great many buildings and businesses remain closed and many staff are furloughed. When clients have returned, they are at significantly reduced staff levels, which by definition reduces the service. Clients are changing their requirements on an almost daily basis and members are needing to be agile and flexible enough to reflect that."
Mark Hazelwood, Managing Director and Co-founder of Clenetix, a specialist software vendor for the cleaning industry agrees: "It's undeniable that with buildings at limited occupancy, and so many closed, that cleaning services aren't focusing on investing in strategic technologies right now. Understandably, the goal for many is simply to keep operating in this incredibly fluid and challenging environment."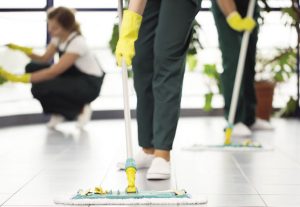 But he adds, with the growing use of technology to provide evidence that cleaners have turned up: "Now we can show, not only that they have been present, but how often, in exactly which locations, and the robust cleaning methodologies that have been used to ensure the ongoing cleanliness, hygiene and safety of different areas within the workplace."
Ponniah of Cleanology, argues that, "managing a large workforce with rapidly changing scenarios is always a challenge. In terms of clients, we have seen a reduction in requirement for daily cleaning services, and also faced challenges in collecting payments from clients, and managing client expectations around contractual obligations.
"Overall, we have seen a reduction in daily cleaning (less hours per day, and in some cases, less days per week), coupled with a steady – but not enormous – demand for deep cleans and fogging, prior to reoccupation of premises."