FMJ reports on Workplace Week International 2020 (9-13 November), a virtual festival that explored how world leading organisations are transforming the way they work
In the summer, Peter Cheese, Chief Executive of the Chartered Institute of Personnel & Development (CIPD) said that the pandemic signalled "a moment of real change in the world of work…that employees are at the centre of organisations' operations". His words followed a slurry of large organisations, like Twitter, Fujitsu and the Royal Bank of Scotland, committing to home working models for the long term or hinting at significant shifts in property strategy.
In many cases, however, the pandemic has merely accelerated plans that were already in motion. Advancements in technology and infrastructure, ongoing globalisation, and demographic changes to the workforce have converged in recent years to create the ideal conditions for greater flexibility and mobility. And the most forward-thinking organisations have identified how they can exploit these factors to enhance employee productivity and wellbeing.
Global change management consultancy Advanced Workplace Associates (AWA) has organised annual Workplace Week events in London since 2010 and in New York since 2018. These week-long festivals feature conventions, seminars and tours of some of the world's most innovative workplaces. When COVID-19 put paid to this year's scheduled live events, AWA spotted an opportunity to turn Workplace Week into one virtual event, providing delegates with an opportunity to see how organisations from around the world have responded to the pandemic's challenges and transformed their workplace models.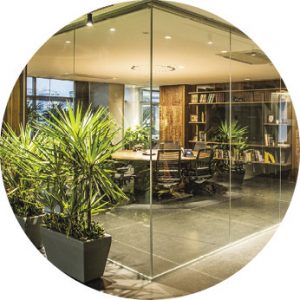 IT'S A SILLY BUSINESS
Ratnabali is an investment firm in Kolkata, India. The organisation employs around 60 staff who it calls "members". Having cultivated a close-knit, family-orientated environment, the organisation wants its workplace to feel like home.
The work that members do is mentally tough, so Ratnabali also recognises that it has a responsibility to keep everyone "physically engaged, mentally focused and emotionally attached". With this in mind, its office has been designed to be ergonomic and clutter-free. It features lots of plants and a mix of private clusters and collaborative areas for different activities. Members are also encouraged to share the space irrespective of seniority.
As early as January, Ratnabali formed a committee to plan its response to the pandemic. The organisation immediately began running training sessions for members on virtual meetings in anticipation of what was to come. Then, in mid-March, prior to the Indian government's national lockdown order, the committee shut the Kolkata office.
During the home working period, Ratnabali put a great deal of effort into keeping everyone engaged and connected. Members were encouraged to join two scheduled Zoom calls each day – one in the morning and the other in the evening.
But the organisation could sense the loss of its workplace. Colleagues were missing out on the "silly stuff" that allowed them to socialise, like informal awards (one team member received a prize for eating the most biscuits) and regular office games.
So, another committee was formed in early June to form a return-to-work plan. Once Ratnabali was able to reopen its office, measures were put in place to keep the environment sanitised and ensure that members maintained a safe physical distance, while a moratorium was placed on all business travel. The organisation noticed an immediate uptick in business productivity.
However, the Ratnabali admits that the home working period has brought some lasting change. The organisation has become technically-savvy. Zoom meetings remain the norm. It's also more travel averse, more hygienic and "post-COVID conscious".
UNDERWRITING THE FUTURE
Lloyds of London, the world's oldest insurance market, can lay claim to one of the most iconic office buildings in the English capital. While its unusual metal exterior feels undeniably modern, the interior offers plenty of hints at Lloyds' rich 350-year history.
Before the pandemic, Lloyds had begun the process of bringing the space into the 21st century through a programme of design and digitisation. Despite some 5,000 people entering the building every day, much of it was underutilised. Its underwriters also wanted more space that could support collaborative and flexible working. Meanwhile, lots of Lloyds's neighbours were building fabulous new creative spaces and the organisation feared falling behind in the war for talent.
Lockdown hit while the design and build team were working on the first phase of the fifth floor.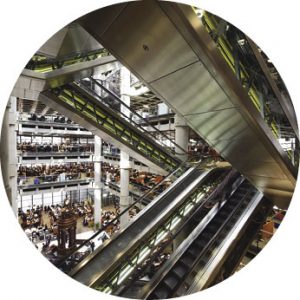 However, it provided Lloyds with an opportunity to test many of the issues it had already identified as part of its digitisation project. Lockdown helped answer questions like 'Which activities will employees need to do in the office in a hybrid system?' It gave the organisation unprecedented insight into how a hybrid system would impact things like onboarding, connecting with colleagues, and holding client meetings, upskilling teams to manage and work remotely, employee wellbeing, and health & safety. The organisation has already rolled out a range of digital collaboration tools and mindfulness apps such as Headspace.
Lloyds was also able to identify some significant teething problems with flexible working. As lockdown rules eased over the summer and employees returned to the office, for example, Tuesday, Wednesday and Thursday became the busiest days. A situation whereby the building is overloaded in the middle of the week and empty either side of the weekend is unsustainable.
Now, Lloyds says that its workplace transformation is just the first step on a never-ending journey. The demands on employees and workspace will continue to change and the organisation must be ready to adapt.
AFTER COVID
For Ratnabali, the pandemic has reasserted the power of its workplace, reminding the organisation why it has invested so much time, money and energy into creating a space where colleagues can come together, form a community and call home. For Lloyds of London, on the other hand, COVID-19 has provided an acid test for its digitally focused workplace transformation, giving the firm confidence that it is on the right journey.
Ultimately, the digital case studies on show at Workplace Week 2020 demonstrated that the challenge in a post-pandemic world is to create workplace models that are inextricably linked to organisations' values and employees' needs.