Leading high quality floor marking installations, RFID and barcode labels specialist, inotec, recently completed an impressive line marking project for one of the UK's food and drink logistics providers.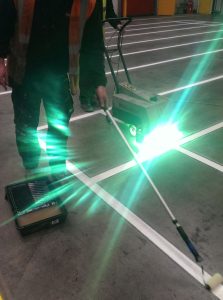 The project was undertaken in one of the company's extremely busy warehouse and distribution centres in Salford. The nine week project comprised of the installation of over 4,500 linear metres of floor marking. This included the installation of marshalling lanes, forklift truck routes, zebra crossings, pedestrian walkways and forklift truck and walking men stencils.
The project was delivered within the required timescales and completed in July 2021 on budget. It involved the revamping of the existing line marking of 48 double marshalling lanes each with the capacity to hold 26 pallets, forklift roadways and personnel walkways.
Minimal operational disruption due to ultraviolet cured Lines
To prevent operational downtime the project had to be completed quickly and systematically. Inotec achieved this by putting in place a detailed installation plan to ensure minimal operational disruption whilst the line marking was installed.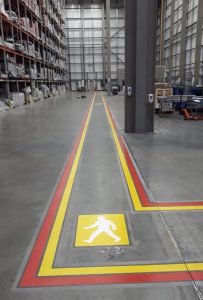 The marshalling lanes were revamped each day, three lanes at a time in rectangular blocks along with corresponding roadways and walkways. They returned to full operation straight after the line marking was completed in each section. This approach meant that, on any given day, only six per cent of the marshalling operation was out of commission.
Enviable reputation
Inotec has developed a name and reputation for high quality floor marking installations, all backed by the performance and customer service expected from a market leading company.
For more information please contact inotec UK on 01482 654466 or email info@inotec.co.uk.
-ends-
To have your industry news published in the pages of FMJ's news section, Month in FM, and here online on fmj.co.uk, please send your news and image to Danny Grange danny.grange@kpmmedia.co.uk
The view or information contained within these unedited press releases, are that of the company producing it and not necessary the views of kpm.