WEPA Professional, a leading provider of sustainable, environmentally-friendly paper and washroom solutions in Europe, is introducing Satino by WEPA; a new brand of cleaning and hygiene products for the UK market.
Launching this autumn, the extensive range will offer everything from paper towels, toilet rolls, kitchen rolls and cleaning rolls, to air fresheners, soaps, disposal systems and washroom accessories, and will provide a variety of functional, sustainable options to meet the needs of customers and washroom users alike.
With hygiene at the forefront of consumers' minds, Satino by WEPA has been designed to appeal to people's desire for a positive and comfortable experience when using the washroom.
Targeting the independent wholesale sector and buying groups, the launch will be supported by a trade marketing programme incorporating strategic advertising and social media activity.
Highlights from the new suite of products, include:
Four soap/foam dispensers, with manual dispensing and sensory formats available, for a touch-free experience
Nine varieties of paper towel dispenser – one of which features a sensor function – to suit washrooms of differing sizes, from high-usage to low-moderate
Six toilet roll dispensers, including jumbo and twin roll options
Three waste bin options, available in 8, 23 and 43 litre capacity
Paper towels in w-fold, z-fold and v-fold formats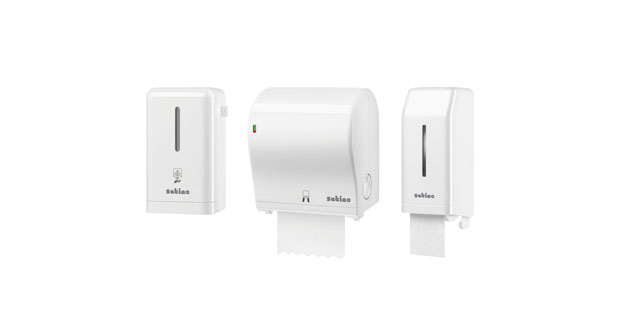 Ralph Kaufmann, head of sales and business development at WEPA Professional, says: "Tapping into our 70-year history as a manufacturer of high quality, sustainable paper products, and having worked closely with our existing UK customers, we are very pleased to say we are now bringing Satino by WEPA to the UK market.
"We know that sustainability and style go hand-in-hand and that the look and feel of a bathroom can really affect the image of a business or workplace, particularly at a time when cleanliness is high on the agenda. Satino by WEPA provides the perfect solution for businesses looking to enhance their washroom facilities and offer a clean, pleasant environment for hygiene-conscious users.
"We look forward to working with our UK customers to deliver a flexible, sustainable and competitive solution to their washroom requirements over the coming months and years."
To enquire about pricing for Satino by WEPA or to place an order, please contact the sales team by visiting our website www.satino-by-wepa.co.uk or email Alasdair Sharp at alasdair.sharp@wepa.co.uk.
For the latest news from Satino by WEPA, follow @satinobywepa on Twitter or connect with Satino by WEPA on LinkedIn at https://www.linkedin.com/showcase/satino-by-wepa/
-ends-
To have your industry news published in the pages of FMJ's news section, Month in FM, and here online on fmj.co.uk, please send your news and image to Danny Grange danny.grange@kpmmedia.co.uk
The view or information contained within these unedited press releases, are that of the company producing it and not necessary the views of kpm.