With various studies documenting the negative effects unwanted noise can have on peoples' well-being , Forbo Flooring Systems has developed a new Acoustic Collection. Combining its well-established Sarlon acoustic vinyl range with its award-winning Modul'up adhesive free solutions, the new collection will be the go-to reference point for any project where impact-sound needs to be minimised. What's more, with 94 contemporary designs to choose from, the aesthetics of an interior no longer need to be compromised when it comes to acoustic performance.
Forbo's new Acoustic Collection offers a diverse portfolio of products available in adhesive free or traditional fully adhered formats in acoustic, compact and compact acoustic versions. It consists of Forbo's industry leading acoustic sheet vinyl Sarlon 19 dB and Sarlon 15 dB, and its innovative adhesive free vinyl solutions Modul'up 19 dB and Modul'up Compact.
The four solutions are available in all 94 designs, which have been split into the following design families: Wood, Material, Colour and Graphic, and include new digitally printed items.
Within the Materials range, there is a selection of concrete, textile and stone aesthetics and within the Wood collection, specifiers will find a brand-new Hybrid Wood design, which fuses together wood and stone textures in a large-scale chevron design, creating a link between the two natural materials. For those that want to add the 'wow' factor to a space, the Graphics range consists of a variety of contemporary designs, such as Terazzo and Graphito.
Bringing a modern abstract twist to the collection is the new colour Splash paint design, alongside Kubik, which replicates the intriguing geometric patterns you would find when looking through a kaleidoscope.
Last but not least is the Colours range. It is a compendium of solid shades and stardust designs, with the latter containing particles to create a 'strass' effect. What's more, Forbo has also introduced a new tinted coloured wear layer to those found in this range to add more depth to the hues.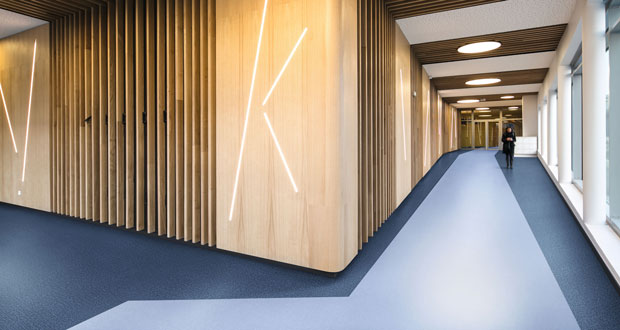 Akin to Forbo's other portfolios, this collection follows the company's design principles in which the 'Dynamics of a Building' play an important role. Forbo's team of passionate designers have created a unique Global Colour Card, based on the latest design trends. The result is a broad product offering where different product ranges complement each other, allowing specifiers to create integrated flooring schemes with ease. In fact, the Acoustic Collection can be specified alongside a variety of Forbo's ranges, such as Allura LVT, Eternal vinyl sheet and Sphera homogeneous vinyl.
In addition to the variety of designs available, the Acoustic Collection also benefits from Forbo's new XtremPURTM finish, an extremely high-performance lacquer protection, which provides the best possible resistance against stains, scuffs and scratches and provides a natural matte aesthetic. This new finish also enhances the slip resistance of the collection to R10 and delivers a fire performance of Bfl-s1.
Lewis Cooper, Marketing Executive at Forbo Flooring Systems said: "We live in a demanding world and each interior design project brings fresh challenges. That's why we've developed this unique Acoustic Collection, as it offers solutions for a very diverse range of requirements for all sectors. In fact, not only does the collection provide exceptional impact sound reductions, but Sarlon 15 dB and Modul'up Compact offers the highest resistance to residual indentation.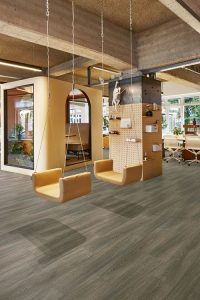 "What's more, Modul'up is part of our Fast Fit collection, which encompasses an array of genuinely adhesive free products. Quick, easy and economical, Modul'up has been designed to be installed with minimal subfloor preparation and can be installed over a variety of subfloors or even over existing floors. Not only does this reduce installation time by over 50% compared to standard, glued down products but the elimination of adhesives also makes the job itself far easier, as it completely sidesteps a range of potential application and curing issues. There are also no lingering odours or aromatics, resulting in a better indoor environment for all who use the building."
Forbo's new Acoustic Collection is phthalate free, offers best in class stain and chemical resistance and has certified anti-bacterial properties, all of which contribute to a healthy, hygienic and easy to maintain interior.
The new Sarlon and Modul'up ranges are just two solutions from Forbo's Acoustic flooring offering. The wider acoustic collection from Forbo also includes its modular LVT solution Allura Decibel; its safety vinyl, Step Decibel; its renowned sustainable options Marmoleum Decibel and Acoustic, and Forbo's general sheet solution, Eternal de Luxe Decibel.
For more information about the collection, please visit www.forbo-flooring.co.uk/acousticcollection
-ends-
To have your industry news published in the pages of FMJ's news section, Month in FM, and here online on fmj.co.uk, please send your news and image to Danny Grange danny.grange@kpmmedia.co.uk
The view or information contained within these unedited press releases, are that of the company producing it and not necessary the views of kpm.