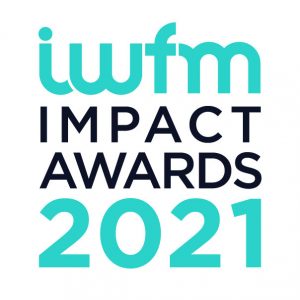 The Institute of Workplace and Facilities Management (IWFM) has revealed the winners of its IWFM Impact Awards 2021.
The awards underline the impact the profession has on the organisations it serves and to celebrate the people, processes and products making a daily difference to the workplace experiences of millions. This year, it was the contribution of people and teams in health, wellbeing and sustainability that "wowed" the judges.
In a glittering ceremony held last night at London's JW Marriott Grosvenor House, 63 finalists vied for the hotly competed categories with the winners reflecting the fundamental contribution that the workplace and facilities sector is making to contemporary challenges at every level, from front line care to smart innovation.
IWFM Impact Awards Winners 2021
Workplace Experience: Office / Corporate Environment
Workplace Experience Programme, Sodexo and AstraZeneca Partnership
Workplace Experience: Non-office / Corporate Environment
Village, Sodexo
Positive Climate Action
Sponsored by: NG Bailey
Plan Zero, Mitie
Social Value
Sponsored by: 14forty
Jointforces, ISS Facility Services UK
Wellbeing
Sponsored by: Thomson FM
Sodexo Counselling Service supports frontline wellbeing
Diversity Initiative
Sponsored by: PRS
The Atalian Servest Diversity Initiative
Collaboration
Sponsored by: Kier Places
Permanent Joint Operating Bases, Infrastructure Service Provider (PJOB ISP) Cyprus, Gibraltar, Falkland Island and Ascension Islands, Mitie
Product or Service Development
Sponsored by: Ascot Services
Paper Round partners with Vegware to launch a large-scale commercial compostables service
Technology
Sponsored by: EMCOR UK
ISS ServicePoint – a technology solution for better patient care
Team of the Year: Private Sector
Sponsored by: PTSG
Entertainment Team, Emaar Facilities Management
Team of the Year: Non-private Sector
Sponsored by: PTSG
Royal Derby Hospital Portering Team, ISS Facility Services UK
Newcomer of the Year
Alex Ballintine, Operations Manager, Mears Facilities Management
Account Manager of the Year
Moses Ayoola, Business Director (Hard and Soft FM), Sodexo & Queen's Hospital, Romford
Frontline Heroes (Organisation Award)
Merseyside team, VINCI Facilities
Frontline Hero (Individual Award)
Sponsored by: ISS UK
Lucy MacNeill, a true community hero and inspiration within the FM industry
The event was also an evening of change as new IWFM Chair Mark Whittaker, in his first formal engagement since assuming the role on 1 October, paid tribute to outgoing Chair of Judges Julie Kortens, stepping down after two years in the role, and welcomed her successor, David Sharp.
Whittaker said: 'The role of Chair of Judges is a crucial ambassadorial role for the Institute and its many demands require significant commitment. We are indebted to Julie for her outstanding service to our profession, in particular her role in safeguarding the robust standards of judging and ensuring that the IWFM Awards continues to be recognised as the gold standard within the industry. I also want to extend a very warm welcome to David Sharp, who will succeed Julie as Chair. A fellow of the Institute and long-standing lead judge, I know that David's passionate advocacy for our profession will serve us well."
David Sharp, CEO of International Workplace, said of his appointment: "I look forward with huge excitement to helping the IWFM Impact Awards continue to shine a light on the core contribution that workplace and facilities professionals make to our economy at every level today, from front line care to sustainable innovation."