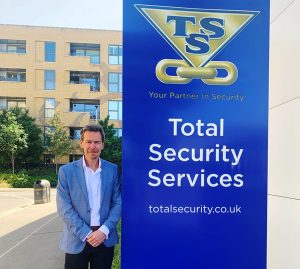 Total Security Services (TSS), the largest privately owned security provider in the UK, announces the appointment of their new Managing Director.
Joining "a true market leader"
After five years as Managing Director at Cordant Security, one of the ten largest manned guarding companies in the UK, Brendan Musgrove now joins the family-run Total Security Services.
He told us of his excitement in joining the business and how he plans to help add to their award-winning offering: "Once I saw for myself the level of investment, and the forward-looking outlook of the senior management team, I knew TSS was where I had to be. Their IT, physical infrastructure and focus on people development is deeply impressive.
"TSS has been phenomenally successful in their chosen sectors, I am privileged to be able to join a true market leader in order to help continue, and accelerate, their growth."
Prior to leading Cordant Security, Musgrove has also managed a range of FM based business within Rentokil Initial and Interserve
History of award-winning TSS
Established in 1989, TSS employs over 6,000 front line staff and 200 back office and mobile support staff. The security service, known best for its high-profile Retail Security work, also provides a range of security services across multiple sectors.
TSS pride themselves on delivering service excellence, this being recognised by their NSI gold standard, and top 1% ACS positioning. A focus on the wellbeing and development of its team members being shown through their Investors in People Award.
The appointment of Musgrove is one of a number of management changes, designed to both consolidate their current position and continue to drive the business forward in both its current core sectors, and by expansion into new areas.
"I really enjoy working with teams to generate new ideas and approaches to the challenges businesses face. I'm a great believer that the answer to every problem is somewhere within the wider team. The key is facilitating an environment where people feel empowered and motivated to contribute in this way."
If you'd like to know more about how TSS can support with your requirements you can visit https://totalsecurity.co.uk/, contact Brendan on Brendan.Musgrove@totalsecurity.co.uk or call 0208 523 5533.
-ends-
To have your industry news published in the pages of FMJ's news section, Month in FM, and here online on fmj.co.uk, please send your news and image to Danny Grange danny.grange@kpmmedia.co.uk
The view or information contained within these unedited press releases, are that of the company producing it and not necessary the views of kpm.