Danielle Tonks, Business Development Manager and Law Firm Specialist for CBRE Global Workplace Solutions, offers FMJ some valuable insight into the changing workplace patterns for the legal sector
With lockdown restrictions beginning to ease and workplaces being primed to reopen there is a growing debate on how the post-COVID office landscape will develop, particularly within the professional services sector. Danielle Tonks, Business Development Manager at CBRE, strategically supports firms in shaping their hard services and wider facilities management solutions. Danielle regularly evaluates client's workplace strategies to help support them shape their FM solutions, and crucially given the impact of COVID, help them prepare for differing patterns of work.
In this exclusive Q&A session, she shares some valuable insights into how legal firms are emerging from the disruption and planning for a brighter future.
Q: How far do you think COVID-19 has accelerated existing trends in the legal sector? For example, health and wellbeing, activity-based working, flexibility and the drive for better space utilisation?
"As the legal sector has historically been fairly traditional in its workplace strategies, it is now being forced to contemplate one of the greatest workplace transformations of any sector since the start of the pandemic.
With patterns now starting to form, we see some radical adaptations underway, which may become templates for other professional services firms. However, although changes are taking place, it is clear from our research with law firm clients that the office remains a staple feature of the working environment for the legal sector.
In the market, we've traditionally seen law firms struggle with desk ownership allocations, space utilisation and lawyers embracing flexible working adaptations and digital technology implementation. Now we are seeing many of our law firm clients adopt an agile working environment, with some firms indicating that their employees will work from the office two to three days per week. Some of our clients have indicated a complete radical overhaul of working patterns, encouraging their employees to decide on their working pattern, guided by their circumstances.
Although COVID-19 has accelerated change regarding space utilisation, flexible working and digital technologies, retaining and attracting talent remains a priority."
Q: What do you envisage will be the size and location of the future workplace and the right mix of the portfolio (e.g. more smaller offices situated in regional hubs)?
"Our law firm clients and the workplace surveys that we have undertaken indicate a strong preference for sticking with a central HQ office location. With more people working remotely regularly, there is even more reason to have a single centrally located hub to encourage collaboration and innovation when people do come together.
Concerning the impact on the size of the office, we are seeing a range of different approaches starting to emerge from those law firms; however, the majority are settling on allowing employees to work remotely two to three days.
The increased remote working needs to be balanced against a requirement for more social distancing – resulting in less density in work environments – and the need to reconfigure the office environment to enable greater collaboration. The resultant impact on the amount of total space law firms will need to run their business will probably be less than anticipated earlier in the pandemic."
Q: Does your research support the idea that the office will be used for collaboration and teamwork, as opposed to individual work? How will this influence design and layout?
"Our research indicates that the office will be used for more collaborative purposes, which will see a shift from cellular office/private office space to more open-plan setups. Where the office has traditionally been used for work processes, collaborative, educational, and social needs will now form increasingly important drivers of how space is used.
Although the future design of law firm offices is still under debate, we are seeing some forward-thinking approaches starting to emerge. For example, we're seeing some firms looking to introduce yoga rooms in their offices, more team meeting space, as well as reviewing client space to assist with collaborative meetings.
Whilst we're currently working with law firms to support them in reviewing the future space and design of the office, it's also been important for us to ensure that this aligns with their wider facilities management strategy. This has resulted in our engineers reviewing asset requirements alongside workplace changes to ensure cost and energy consumption savings are secured."
Q: What role can digital technologies play in helping to service occupier needs, especially when it comes to comfort and safety?
"Employees want to see different building attributes as we emerge from the pandemic. The aspiration is for a seamless and frictionless working environment, where the digital connects the physical space with the human. Flexible workspace options and shared meeting space have been the main recent focus for law firms. Still, we are now seeing an emerging focus on indoor air-quality sensors, touch-free systems, and building workplace Apps. This supports our clients in achieving their Environmental, Social, Governance (ESG) targets, encouraging productivity and a safe and healthy return to the workplace. The COVID-19 pandemic has made all these sorts of issues more prominent in law firms' CRE thinking.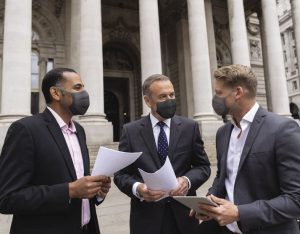 Due to the increasing demand to enhance the workplace experience in the Legal sector, we have seen great traction with our CBRE Host Building App(i), providing touchless access to the building, desk room and space booking, community and event engagement along with health and safety and service/amenity updates. The App supports our law firm clients to ensure they are continuing to attract and retain talent and promote inclusivity and blend remote working with work from the office. Understanding how the office is used will also help our law firm clients evaluate and review their space utilisation more effectively."