The SFMI and BAM FM have teamed up to develop a framework to help the FM community achieve net zero carbon by providing a standardised approach that measures emissions from services. SFMI's Chris Havers and BAM's Reid Cunningham and Anthony Heaton explain the details
INTERVIEWEES

ANTHONY HEATON
SUSTAINABILITY MANAGER
BAM FM
Anthony Heaton moved over from BAM Construction to the role of Sustainability Manager at BAM FM last year, and brings a fresh perspective on the FM sector.

REID CUNNINGHAM
STRATEGIC DEVELOPMENT DIRECTOR
BAM FM AND BAM ENERGY
Reid Cunnigham is a Strategic Development Director at BAM FM and BAM Energy. He was one of the people behind the setting up of BAM Energy.

CHRIS HAVERS
SFMI PROGRAMME DIRECTOR
Chris Havers understands the key role played by corporates in helping address climate change. He went into climate strategy from a CSR background, and then onto the sustainability consultancy side with Camden Council and latterly Acclaro Advisory. Here he has the brief to help FM organisations integrate responsible business into their organisations.
In November, Glasgow will play host to COP26 the United Nations Climate Conference. In the wake of the recent UN report, which warned global temperatures have risen faster since the 1970's than at any point in the last 2,000 years, there has never been a greater imperative to tackle climate change and everyone has a role to play.
With 30 per cent of the UK's total Scope 2 carbon emissions (including imported emissions) coming from the built environment, FMs have a significant role in helping to meet the challenges ahead. But according to the SFMI (Sustainable FM Index) many FMs do not have a true picture of the carbon impact of their activities and in most cases, it is larger than many organisations report. (See Sustainable Core in July FMJ for more on the results).
To address this, the SFMI and BAM FM have joined together to develop a framework that provides a standardised approach for the FM community. The SFMI's purpose is to embed sustainability into the management and operation of the FM sector. It believes that the FM sector can have a much greater impact if it embeds sustainability from a corporate level right through to a contract delivery level. Being able to deliver its services through a sustainability lens will enable it to align with the growing strategic importance that customers in both the public and private sector are placing on sustainability topics such as zero carbon plans.
BAM FM already has a proven track record of delivering sustainable solutions and embedded its 'building a sustainable tomorrow' strategy into core business values. BAM Energy was set up as a separate entity within BAM FM to design and promote energy projects that help customers improve their energy efficiency.
The framework is being introduced to help FMs measure scope 3 emissions from their service, by establishment of a clear boundary and a rulebook for categorising and measurement.
THE FM INDUSTRY IS ON A JOURNEY
"Many client organisations are now at a tipping point when it comes to reducing carbon" says Anthony Heaton Sustainability Manager at BAM FM. "Discussions about reaching net zero are happening everywhere. Clients are a lot more engaged with this idea, but the level of understanding varies. That's why our project is aimed at everyone, those who are already on the journey like ourselves and those who are just getting started with their sustainability targets."
BAM FM has been on their journey for some time. "We've always given sustainably a priority in the business with our net positive future approach, which considers people, climate and resources" says Reid Cunningham, Strategic Development Director at BAM FM and BAM Energy. "In 2015, we came across the SFMI and thought it was a way of carrying out a consistent audit. Having achieved the gold standard for the last three years, our strategy has matured. We now want to move to the next stage by focusing on Scope 3 emissions.
"However, we cannot take these next steps on our own" says Cunningham. "For me it's important that we produce something that the sector can implement and learn from together. We can all chip away within our own niches or as an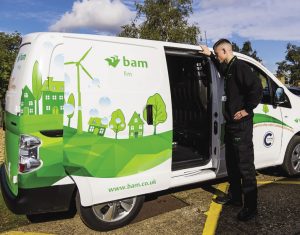 industry, we can work together to drive things forward and improve client confidence that FM can deliver sustainable solutions."
This includes bringing its supply chain on the journey. "What we're aiming to do is help demystify the process" states Heaton. "And to achieve this we recognise that we will need to carry out a huge upskilling exercise with our supply chain. In the past initiatives at the supply chain level have fizzled out but we want to harness supplier innovation to reduce emissions and remove blockers that prohibit a wider uptake."