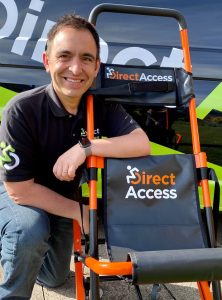 Since the 2005 Regulatory Reform (Fire Safety) Order, the responsibility and focus to provide a safe and suitable egress from a building or environment during an emergency situation has meant our public and business spaces have become much safer for people who might need assistance.
Grenfell has highlighted many failings in the residential space, not just in the structure and make up of a building but also what happens when a stay put policy expires and the need to evacuate or be rescued occurs. Abled bodied residents can, if the route allows, make their own way down what should be a fire protected stairway in reasonable safety and in a reasonable amount of time. What happens to our elderly, mobility impaired, neurodiverse, or temporarily immobile flat owners or private residents?
Relying on the emergency services is currently the only option. Being rescued from a person's private residence is the plan, but when FRS struggle to contain the emergency, how quickly can an effective sweep, identify and rescue be undertaken? Grenfell seems to suggest, not quick enough.
A Personal Emergency Evacuation Plan (PEEP) is commonplace in the public and corporate sectors. It's very clear a plan needs to be in place to help people in certain situations. Accessibility consultancy Direct Access argues a similar process should be undertaken for all situations where people might require assistance in an emergency. Having a PEEP in place for the elderly or disabled resident in a tower block would ensure the right training and evacuation equipment is in place.
Direct Access' evacuation equipment range has been developed by disabled people to meet their own evacuation needs combining comfort with expedited egress. The orange colours for example represent life saving devices seen on ships providing a vital reassurance for elderly or neurodiverse users.
For more information visit www.directaccessgp.co.uk/evacuation-solutions
-ends-
To have your industry news published in the pages of FMJ's news section, Month in FM, and here online on fmj.co.uk, please send your news and image to Danny Grange danny.grange@kpmmedia.co.uk
The view or information contained within these unedited press releases, are that of the company producing it and not necessary the views of kpm.