FMJ hears from catering and vending specialists on how food and drink services are being adjusted to support new working patterns, meet variable demands and contribute to a more hospitable workplace atmosphere
According to Mintel's UK Contract Catering report 2020, the pandemic not only prevented but discouraged staff from using catering facilities, with over half of respondents (53 per cent) stating that they would visit staff canteens less over the following 12 months. Now, with the vaccine in play there is some hope that workers will be feeling more positive about availing themselves of their organisation's catering facilities, and FM clients are looking to services suppliers for guidance on how best to prepare existing and new client sites.
Says Adrian Evans, Foods Transformation Director, Corporate Services, Sodexo UK & Ireland: "We feel very confident that we have the right systems, processes and technology in place and have done of lot work over the last 18 months to ensure that our sites are safe. That has involved everything from new upweighted cleaning protocols, new service styles, revised menus, to more radical new ways of working, such as the introduction of our new digital app Twelve."
However, he adds that with a lot of uncertainty about how organisations will return to the office, suppliers will need to be flexible and to use data that helps manage demand.
Jo Anne Robertson, MD B&I regions for Elior agrees that the safe reopening of sites has been absolutely paramount for clients. This has included the placement of video and poster content as well as a lot of signage around sites to keep measures such as distancing and one-way systems in sight to encourage staff and customers to keep everyone as safe as possible.
She adds: "We also made some operational changes to the way food and drink is served to prevent any unnecessary contact. We removed salad bars and self-service stations, for example, and we also massively increased the use of contactless ordering through digital channels.
"Having introduced these changes and measures to sites, we added COVID measures to all of our internal audits, and we've had really strong results off the back of those – with 100 per cent compliance being the norm and a worst case sitting at 97 per cent."
CHANGING HABITS
As FMs prepare to manage their organisations' vastly different work patterns, workplaces may need to adapt their day-to-day catering facilities to accommodate hybrid and hub styles of working. All the uncertainty, says Rebecca Bridgement, Managing Director at Radish, means that caterers must be very adaptable.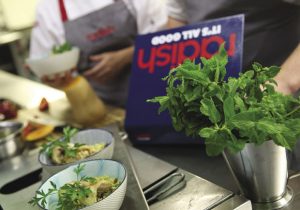 "Instead of having a one service fits all approach, we're having to tailor our service to fit individual needs depending on their circumstances. We're introducing different technologies such as screening to help make reopening's safer, but not everyone has the money for it. So, it's about juggling our clients' needs with their realistic achievability, and finding a unique solution depending on the businesses condition."
Angus Brydon, Divisional Managing Director at Bartlett Mitchell believes there should be a reappraisal of catering as a means of bringing much broader benefits to an organisation than simply refuelling.
"With absent time from the office, collaboration of teams will be reintroduced through meetings and gatherings at restaurants, coffee bars and through other hospitality services," he says.
"We have seen some clients moving towards the full free issue model to attract back employees, with others closing down the counter style service and creating an A La Carte offer. The latter offers a wider choice on the menu, less wastage and also offers freshly prepared food.
"We are also seeing all-day grazing featuring, and with the changes to people's working patterns and times we have had to adapt to support when they want breakfast, lunch or dinner. The traditional service times have been stretched, with more demand for brunches and later lunches. We have also seen some hybrid options where, in order to ensure inclusivity, we have created opportunities where those on-site having meetings and hospitality, such as a lunch, can do so with their virtual colleagues who have been sent the same lunch to their homes.
"We will see a lot of innovation coming through but, fundamentally, we believe that catering is going to play a huge role in bringing people back together."
Sarah Miller, Managing Director, London at BaxterStorey expects that while fewer days may be worked in the office, it could potentially be over longer hours. This means catering services must be made available for as long as customers want to work and are as flexible as possible. This flexibility extends to the catering facilities themselves – less fixed counters with assisted service and more mobile, multi-function equipment.
But she adds: "Food will become a reason to come into the office – a particular favourite on the menu could help to determine which days you choose to be in, so clever menu planning will be critical to our success."
AUTOMATED SOLUTIONS
Keeping catering staff on site to support lengthier and more flexible refreshment services is costly and difficult to manage. This is where automated vending solutions can help explains David Llewellyn, Chief Executive at the AVA (Automatic Vending Association). Custom designed vending markets or mart with a self-checkout kiosk is growing in popularity, with the 2020 AVA census showing that there are currently 200 new micro-markets in operation since last year, with around 320 now installed across the UK.
Says Llewellyn: "In a post-COVID-19 workplace, micro-markets are likely to play a much greater role to provide refreshments, as there is likely to be less demand for traditional catering or 24-hour canteens. This is where vending naturally becomes the ideal solution as it can cater for these smaller numbers of people effectively at a much lower costs than having a fully staffed canteen."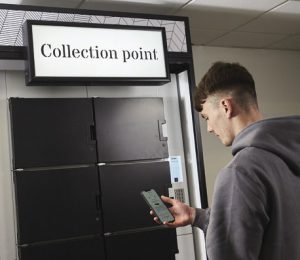 He predicts a surge in the use of digital tech that streamlines the delivery of food and drink; from contactless payment to pre-ordering, supported by the rapid acceleration in the adoption of cashless technologies.
"The 2020 AVA Census found that vending operators were increasingly adopting cashless payment devices, with almost half (47 per cent) of non-free vending machines now supporting cashless payments, which is a 235 per cent increase in the last three years. Cashless payments are now also stretching further than just contactless card payments. Phone payments have also increased by 27 per cent in the last three years alone."
Many of the catering suppliers have already launched their own apps, for instance Bartlett Mitchell introduced Pear Pay, that allows you to pre-order, collect loyalty points and pay from your phone.
According to Brydon: "With the pre-ordering and delivery service, the app has truly come into its own. Our customers have been able to avoid queues and safely enjoy the lunch through pre-ordering on the app. We really believe that as customers return and new habits are created that we will see a further increase in the demand for this service."
Sodexo's 'Twelve app' enables click and collect, pre-ordering, scan-and-go, reservations and hospitality bookings for meetings; and Elior has developed an app called BREAZ, which manages everything from click and collect to digital loyalty. It can be used on desktop as well so people don't need to have the app. Another way Elior has been using tech to increase both convenience and safety is with Connected Fridges. Customers use the app to unlock the fridge, take out whatever they want, and the fridge recognises what they've taken and takes the payment through mobile pay.