Developed in collaboration with Avocor, Google Meet Series One Desk 27 and Board 65 are recognised for design excellence in the prestigious Red Dot Design Awards
Avocor, one of the fastest-growing global interactive display companies and a leading provider of interactive video conferencing solutions, has received two Red Dots for the Google Meet Series One all-in-one devices in the Red Dot Awards 2022.
The Red Dot Award is an international design competition, whose renowned jury rewards products that feature an outstanding design. Each year thousands of companies from across the globe compete in the awards and to win is a highly coveted and well-recognised seal of quality amongst product manufacturers and consumers alike.
Google Meet Series One by Avocor features two thoughtfully designed video conferencing devices, both of which received a Red Dot – including one 'Best of the Best' award:
RedDot Winner 2022: Google Meet Series One Desk 27 by Avocor
RedDot 'Best of the Best' Winner 2022: Google Meet Series One Board 65 by Avocor
"We're incredibly proud that Red Dot has recognised Google Meet Series One by Avocor," Scott Hix, CEO at Avocor, said. "By leveraging the power of Google Meet and combining it with the sophistication of Avocor interactive collaboration hardware, we have meticulously designed two beautiful, intuitive devices to help customers connect and succeed in the evolved modern workplace."
Developed in partnership with Google Workspace, Google Meet Series One was launched in September 2021 to bring meeting equity to everyone, both in-person and remote. The Series One Desk 27 and Board 65 by Avocor combine video conferencing and digital whiteboarding to provide robust meeting experiences for teams looking for more inclusive and immersive collaboration.
Desk 27 is a 27-inch premium all-in-one touchscreen Google Meet device, ideal for personal workstations or extra-small, shared spaces. It also functions as a desk monitor, laptop docking station, and digital whiteboard through integration of the popular Google Jamboard app. Designed with an integrated soundbar and mic array for crystal-clear video and audio with TrueVoice™, Google Workspace's revolutionary multi-channel noise cancellation technology which detects and eliminates distracting sounds like typing and paper rustling while enhancing human voices, so you are heard clearly on Desk 27—even in noisy environments. And to ensure it's easy to use and easy to write on, Desk 27 comes with an adjustable tabletop stand and can be wall mounted.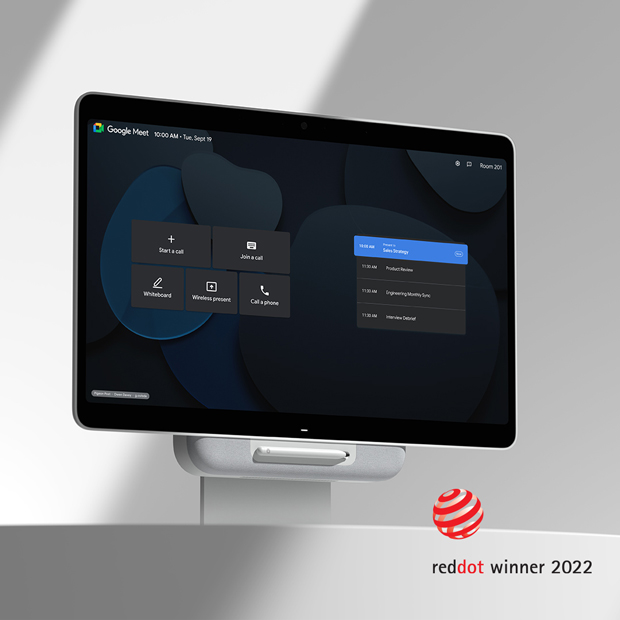 Board 65 is designed to bring teams together for more efficient, equitable, and intuitive collaboration. The 65-inch device can be wall-mounted in small-to-medium collaboration spaces or placed on an optional purpose-built stand. Board 65 also includes features that support more efficient collaboration, including the same TrueVoice™ audio experience as Desk 27. Board 65 also has an onboard digital PTZ camera that provides a wide field-of-view to perfectly auto-frame participants using Google Workspace's continuous framing technology, support for voice-activated controls with "Hey Google," and native integration with the popular Google Jamboard app for immersive interactivity and whiteboarding from the display and from remote participants. Just like Desk 27, a simple tap using a finger or the included stylus on the on-screen calendar can instantly start Google Meet.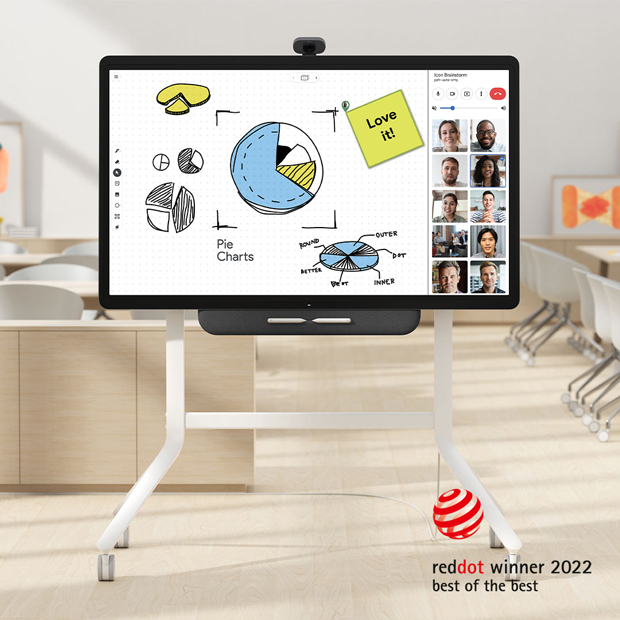 The Series One Desk 27 and Board 65 by Avocor feature a sleek design that is intuitive and easy to use, including an optically bonded screen. Both devices are tilt-optimised for a natural writing angle, with anti-fingerprint glass to offer an acutely sensitive writing experience using fingers, palms, or the included passive stylus for immersive whiteboarding where everyone can easily see and contribute.
To learn more about the award-winning Google Meet Series One by Avocor products, visit www.avocor.com. Follow news and updates from Avocor on social, via, LinkedIn and YouTube.
-ends-
To have your industry news published in the pages of FMJ's news section, Month in FM, and here online on fmj.co.uk, please send your news and image to Danny Grange danny.grange@kpmmedia.co.uk
The view or information contained within these unedited press releases, are that of the company producing it and not necessary the views of kpm.