In the first edition of a three-part series on research into water management, Chris Havers, Programme Director Acclaro Advisory & SFMI focuses on materiality and customer engagement
B

eing a responsible business means accounting for vital resources, but water has often struggled to gain traction within many organisations. In conjunction with Methven UK, a leading producer of water saving products, the SFMI (Sustainable Facilities Management Index) has reviewed historic trending, surveyed FM teams around the UK and held a focused SFMI Leaders Forum discussion to understand the challenges and help FM to engage with customers to drive perception changes.
A series of three reports have been produced, in the series we cover:
1) Materiality and customer engagement
2) Reporting and targets
3) Challenges and opportunities for water management
26 PER CENT OF COMMERCIAL WATER USE IN LONDON IS FROM WATER LEAKS"
WE BEGIN BY FOCUSING ON MATERIALITY AND CUSTOMER ENGAGEMENT
Over the past 60 years, water use habits have changed dramatically, with consumption increasing from 85l per person per day in 1960 to over 150l today. With a growing population, and water leakage rates remaining stubbornly high at over 20 per cent, consumption levels for the UK are increasing dramatically. Based on 25,000 smart meters in the London area, around 26 per cent of the water delivered to non-household properties is continuous flow (i.e. leaking).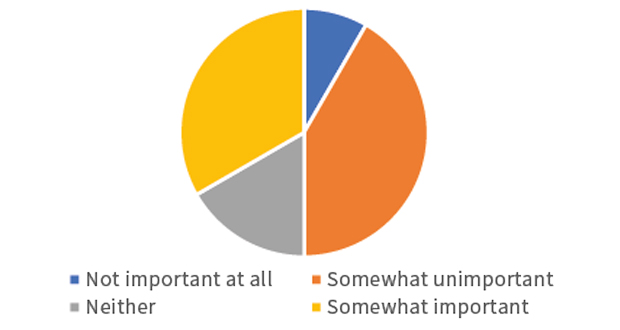 Thirty-three per cent of respondents to a survey felt that water was 'somewhat or very important', with 8 per cent deeming it 'not important at all'. The general view was that water is not material, a view reflected in contracts where water is not managed as a service. Specific sectors, such as education facilities and process users, are more engaged due to water being a high commodity in what they do.
Reducing water for environmental reasons is the primary motivation for FMs (92 per cent), along with financial benefits (59 per cent), as well as reducing spills and leaks (84 per cent). Technology is increasingly used to identify variances in consumption, highlighting where leaks may be occurring. Water hygiene remains a primary focus related to legionella and compliance.
Looking towards climate change implications, where summer means less rainfall and more extreme winter weather events, there are regions in the south and east of England increasingly under water stress. Managing the risks of water shortages leading to temporary closure of buildings has generally not been considered. Low flow systems can extend the time facilities are operable for.
The drive towards zero carbon is enabling different conversations about water, similarly to those focussed upon wellbeing. However, with water costs low, it is rarely a factor that is incorporated into ESG targets.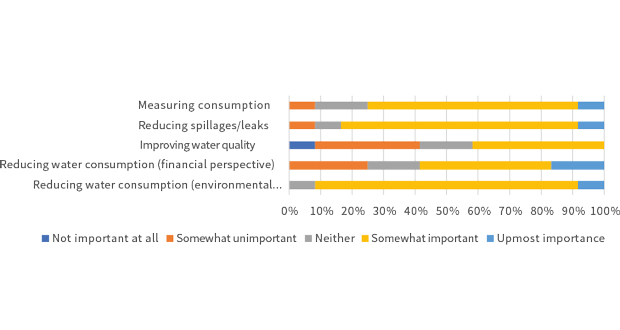 HOW MATERIAL IS WATER MANAGEMENT TO YOUR ORGANISATION AND YOUR STAKEHOLDERS?
Perception around the opportunities has a large part to play, with behaviour change difficult and investment restricted. Methven noted that design is an influential factor in water reduction, if urinals are situated before cubicles (in this study the cubicles were hidden at the back) men are more likely to use the urinals, and ultimately reduce water consumption.
In March the UK Government body, DEFRA, proposed a 20 per cent reduction per person by 2037. To meet this target there are a number of strands of activity that must be undertaken:
Create awareness of the problem – There is a common misbelief that there is no shortage of water
〉 Despite little financial impact – this is not a problem that will go away without action. Action (reducing water use) will benefit businesses, improve carbon footprints and society
〉 Measuring consumption will aid reduction
Changing habits and behaviour
Changing facilities
With this consultation brings an opportunity to heighten the materiality associated with water in the future, as only emergency shortages, or Government intervention to prevent this will heighten the en-masse change in awareness of the British public. FMs should be seeking to understand how the proposals can affect their customers, and position themselves to be able to guide them on action.
92 PER CENT OF FMS SEE ENVIRONMENTAL REASONS AS A DRIVER FOR REDUCING WATER USE. DESIGN PLAYS A SIGNIFICANT ROLE IN THE AMOUNT OF WATER USED IN A WASHROOM"
Also, understanding how improvements can be implemented when the time is right is vital. When water is deemed less material, considering it in redesign is a valuable key when the opportunity arises but this requires an understanding of the behaviours of how we use facilities and when is the best time to advise upgrades and the introduction of new technology.
The SFMI and Methven UK are keen to expand its research and understanding of the water challenge in FM by expanding our survey. Please take a short bit of time to be part of our survey:
www.smartsurvey.co.uk/s/XP06UC/
https://uk.methven.com/home
https://www.acclaro-advisory.com/sfmi/