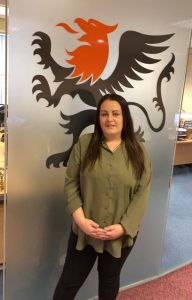 Servo Group is expanding its fast-growing rail division, appointing a new Sentinel and Resource Manager after winning a raft of new work, including a major contract win with Network Rail.
The Leeds and London based multi service provider has promoted Charlotte Breakwell to the position to help manage and facilitate the phenomenal growth of its rail division in the past few years.
Breakwell is one of Servo Group's first team members, starting with the firm almost six years ago as Office Manager. She has since progressed to the position of Sentinel Coordinator and now to her most recent position where she will assist Head of Rail Michelle Moss in facilitating and coordinating Servo's rail contracts, resourcing, and bringing in new business.
Speaking about her promotion, Breakwell said: "The past six years working for Servo have been amazing – when I started there were just six of us in a small office and now the company has expanded to over 30 head office employees with multiple divisions. I'm delighted to have grown with Servo and to have this opportunity to take a pivotal role in developing our dynamic rail division. It's an exciting time for rail at the moment, with some major contracts to fulfil, and I'm looking forward to playing a key role in its upward trajectory."
Servo provides rail labour, SIA-licensed security guards, CCTV, facilities management, and construction services to clients all around the UK. The firm has enjoyed fast, national expansion since its inception eight years ago and it's targeting a £20 million turnover in the next 12 months.
The rail division, which provides PTS/ Safety critical labour and SIA-licensed labour to major operators around the UK, has enjoyed amazing growth in the past four years. As well as the recently awarded contract with Network Rail, it boasts high profile clients and in December it attained full marks for its annual RISQS audit – the quality assurance scheme for the railway industry.
In its recent two-year contract win for Network Rail, Servo is providing security and welfare services to mainline stations in Southern England. Its remit includes anti-trespass and vandalism officers, and welfare officers who are specially trained to spot and react to signs of mental distress and potential suicide attempts. All Servo's welfare officers have received specialist training, in conjunction with the Samaritans, to equip them with the skills to identify vulnerable people and prevent escalation of an incident, and several have received awards for intervening and saving lives.
Head of Rail, Michelle Moss, said: "Our rail division has enjoyed exponential growth in the past 12 months and Charlotte has already played a vital part in that journey. I am delighted to be able to promote her to Sentinel and Resource Manager and I have no doubt she's going to be an asset as we move forward. The coming year is looking incredibly exciting for my team, with some major new contracts to fulfil and ever-increasing resourcing needs, and I know Charlotte will play an integral role in making it a success."
Webinar – Waste & Biotechnology: How biotechnology is helping FMs achieve their sustainability goals and reduce waste.
FMJ & Advetec are on a mission to help FMs accelerate their NetZero plans – but it's a process that must first start with lifting the blindfold, challenging the waste supply chain, being accountable and making great user of technology.
On the 26th January at 11am FMJ & Advetec are holding a webinar on how biotechnology can help FMs achieve their sustainability goals and reduce food waste.
FMJ Editor, Sara Bean, will be joined by:
Dr Stephen Wise, Chief Strategic Development Officer, Advetec
Rochelle Gee, Head of Property Services, Buckinghamshire Healthcare NHS Trust
Ray Parmenter, CChem MRSC, MCIWM, CIWM: Head of Policy and Technical
Chris Havers, Programme Director Acclaro Advisory & SFMI
Together they will discuss:
The role of the circular economy in helping cut carbon emissions.
Challenges and opportunities for FMs in managing waste to meet environment, social and governance (ESG).
How the latest technology is available to help.
Click here to register.