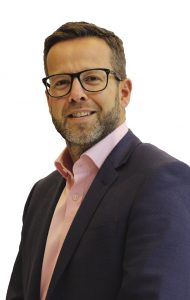 Iain Shorthose, Director of Customer & Workplace Experience at Mitie explains why the results of a customer survey into client's workplace requirements and strategies during 2020 will help FM providers and their clients meet their goals in 2021
Prior to taking up the role of Director of Customer & Workplace Experience at Mitie following Interserve's acquisition in December, Iain Shorthose held the same role with the Interserve Group, and oversaw its annual customer survey. The results for 2020, not only provide valuable feedback on how a leading FM provider performed during COVID but includes fascinating insights to the FM sector over the next six, 12, and even 18 months.
Just a snapshot of the data revealed that satisfaction rates were at a five-year high, a reflection of the contribution made by facilities management during the global crisis. Aligned to this there were strong indications that satisfaction levels were less about meeting SLAs and KPIs and more about being able to provide reassurance and flexible responses during a challenging and uncertain time.
Shorthose has over 15 years' experience developing and delivering customer and workplace strategies across a range of sectors. The annual customer relationship survey goes out to decision makers and influencers amongst Interserve's top 100 customers, but the methodology was changed to reflect the extraordinary circumstances of the pandemic.
"We wanted to recognise that in such a challenging time, where we'd normally arrange interviews that would last 10 to 15 minutes, this time around we were respectful of the pressure people were under so we did a 'pulse survey' using our customer insight team. This comprised a short five to 10-minute online survey which asked a series of core questions fed into a net promoter score, covering areas such as satisfaction, trust and effort. We also wanted the data to provide some insights into how customer's client strategy was shaping and changing so we could support them going forward."
GOOD RESULTS
The results were encouraging, with customers scores at an average of nearly 9/10 for the FM provider's response to COVID-19. One of the reasons for this, according to Shorthose, is that the pandemic has led to a narrowing of the gap between the decision makers and what happens at the operational delivery level. Because of the seriousness of the situation, where senior management are primarily concerned in keeping people safe and maintaining operations they've got much closer to the operational side, and this means how the way they view their FM provider has altered significantly.
Says Shorthose: "It's changed from the main reason being; 'we want to outsource because we can focus on what we're good at,' to the realisation that Interserve and other providers can come through with the support, best practice, and a level of expertise that gives the client the reassurance that when they're in front of the headlights there are people working and collaborating with them who know what they're doing.
"I think that this big shift from just thinking, 'we've got cleaners, security, front of house', to 'we're working with people who will look after our buildings and manage our risk during this pandemic' is crucial."
According to the data there are five key drivers:
Improved and relevant communication at all levels – which had a threefold impact on the score.
Focus on the customer not just tasks. By identifying the building use; e.g. in a hospital how medical staff as well as the patients are supported you establish a shared purpose that creates emotional engagement.
Flexibility – a key element in a constantly uncertain environment where government rules can change rapidly. Demonstrate the ability to be agile and flexible in terms of service delivery.
Collaboration and partnering. Where almost on a daily basis the FM providers and their partners discuss what their current priorities are, how they respond to those changes and what they bring to the table in terms of expertise to guide the client.
Thought leadership, from ensuring cleaning and hygiene standards are met to planning for the reoccupation of buildings in a safe manner.
Says Shorthose: "The data shows how the drivers for client satisfaction have moved from transactional requirements such as contract/service delivery, SLA's and KPI's to softer and move behavioural aspects like demonstrating commitment, shared purpose, strong communications, flexibility, and bringing thought leadership."