Class 1 and 2 Hi-Vis Stretch Work Trousers with Sorona® sustainable performance fibres.
Whether its dusk, dawn or dark, Snickers Workwear has a superior range of Hi-Vis protective wear for both men and women to ensure comfort, safety and certified protection.
The latest additions to the Hi-Vis range are the new Stretch Work Trousers made from the innovative Sorona® sustainable performance fibre.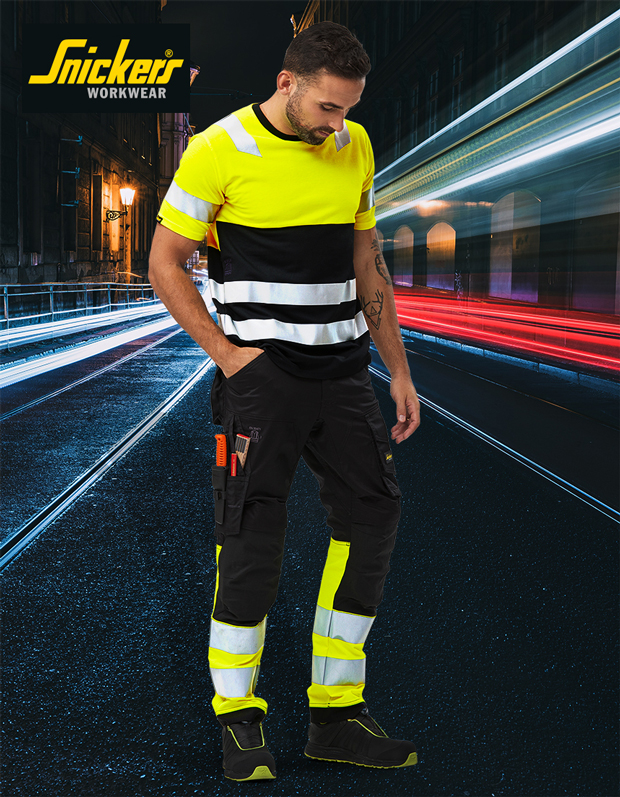 Sorona® delivers both environmental benefits and great performance. This recyclable, bio-based fibre offers exceptional softness for maximum comfort as well as excellent durability to help extend the lifetime of a garment.
The new Hi-Vis Work Trousers with Sorona® also offer long-lasting elasticity for ease of movement. Sorona® is also quick-drying, breathable and soft to the touch for optimal comfort and workday performance.
With advanced designs, high-tech fabrics and performance reflection features, all Snickers Workwear Hi-Vis protective wear has durable colour-fast protection that will last through wash after wash, retaining shape, comfort and protection levels throughout the life of the garments.
Added to which, Snickers Workwear High-Vis garments can be custom-profiled to ensure 'stand out' coverage for your corporate brand.
For more information on the Snickers Workwear range of Hi-Vis Protective Wear, call the Hultafors Group UK Helpline on 01484 854788, checkout the website at www.snickersworkwear.co.uk or email sales@hultaforsgroup.co.uk
-ends-
To have your industry news published in the pages of FMJ's news section, Month in FM, and here online on fmj.co.uk, please send your news and image to Danny Grange danny.grange@kpmmedia.co.uk
The view or information contained within these unedited press releases, are that of the company producing it and not necessary the views of kpm.