At Parkex 2022, the team at WPS, a leading specialist in parking management solutions, will be showcasing how an open and adaptive approach to parking can maximise legacy investment, further enhance the customer journey, and create a pathway to future technologies. 
 Central to the approach is WPS' cloud-based platform that enables the integration of existing and new equipment (both its own and third-party systems) and software, to deliver the optimal consumer journey for operators and end users. 
 The platform is powered by WPS' parking management system – ParkID – an easy-to-use, cloud-based solution that provides real-time visibility of all parking functions. It is supported by WPS Marketplace, an ever-growing range of approved partners, that can be deployed quickly and easily to offer a flexible, scalable, and more economical approach to parking management. With this new approach, WPS is reducing the need to replace functioning proprietary equipment, whilst improving both the parking and operator experience by integrating new functionality as and when it becomes available.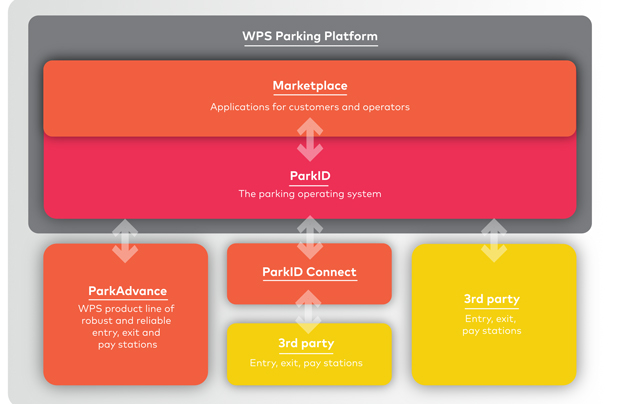 To help visualise the offering, the WPS team will be using a case study demonstration on its stand, describing how the approach has supported the Netherlands' Fletcher hotel group in delivering a customer-centric, and inherently scalable parking solution. The hotel group acquired hotels with legacy parking systems from different vendors, which were unable to cater for hotel's wide variety of customer journeys. Each of these legacy systems had a limited set of functionalities which required vendor specific support. This meant there was no central contact when maintenance was required. Following Covid-19, it sought to standardise its parking solution within a limited budget, but still prioritising customer experience. The case study will demonstrate how WPS' new approach has integrated legacy systems from multiple vendors, and even within small sites, enabled the capabilities of complex parking management systems. 
 In a session titled 'Improve your customer journeys without replacing your parking hardware', Jesse Heitlager, Technology Director, WPS Parking, will be presenting at Parkex's Showcase Theatre to discuss how this approach will impact the way the industry operates:  
"At WPS, we are focused on creating a seamless parking platform that provides partners, operators, and the end user with an efficient and effective service. We are looking to the future and meeting advancements in mobility solutions that help create better places to live, work and travel – with efficient and sustainable parking a vital part of that," he says.  
"This open and adaptive approach is inherently hardware interoperable, thus putting an end to replacing perfectly functioning proprietary equipment – a vital benefit to so many businesses and organisations as we move forward out the Pandemic."  
Parkex is a British Parking Association Event taking place between 14-16 June at the Birmingham NEC.  
For more information visit www.wpsparking.com
-ends-
To have your industry news published in the pages of FMJ's news section, Month in FM, and here online on fmj.co.uk, please send your news and image to Danny Grange danny.grange@kpmmedia.co.uk
The view or information contained within these unedited press releases, are that of the company producing it and not necessary the views of kpm.