The world's first residential property to be certified with the IMMUNE Building Standard™ has been unveiled in London, UK.
One Palace Place in London, a luxury residential building managed by Navana Property Group, was awarded the IMMUNE™ – Strong label by the Healthy by Design Building Institute (HDBI), marking the first residential property to receive this distinction.
An initiative by Genesis Property, a leading member of the European Property Federation and a renowned Class A office developer, the award was in recognition of Navana Property Group implementing the recommended measures of the IMMUNE™ standard across the built environment at One Palace Place to create a healthier living environment for residents.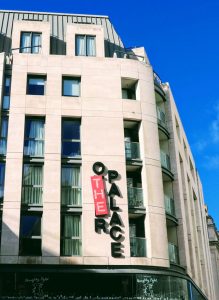 Located in the prestigious borough of Westminster, One Palace Place incorporates 35 private apartments with a 24/7 concierge for residents, alongside a 312-seat theatre, a 120-seat studio, as well as a restaurant and bar open to the wider public. The achievement of the IMMUNE™ certification reflects how Navana Property Group successfully implemented a large majority of the 135 measures included in the IMMUNE™ Assessment Scoring Index.
They include:
aligning its policies to the IMMUNE™ standards at a corporate level, especially in areas such as business continuity, recovery, and wellbeing
providing additional training to its onsite team and the dedicated IMMUNE™ Steward
increasing the cleaning frequency of high touch and footfall areas such as access and exit routes, the entrance, lifts, stairwells, doors and handles with supporting signage
enhancing sanitation regimes within the building both for its staff, residents, visitors, and contractors to keep them protected
providing PPE equipment
installing eight automatic hand sanitisers in the main entrance and lift lobbies on each floor of the building.
Build Green, an independent authorised building assessor and a contributor to the development of the IMMUNE Building Standard™, performs the evaluation and recommends a property to become IMMUNE™ – certified with one of the three labels: Strong (3 stars), Powerful (4 stars) or Resilient (5 stars).
The IMMUNE Building Standard™ was developed in 2020 to combat effects of the Covid-19 pandemic and to design healthy indoor spaces, including offices, industrial buildings, and starting this year, residential buildings. By covering residential buildings, the standard marks a new major expansion milestone, boosting its contribution to the resilience of a wide range of built environments against the health threats of today and beyond.
The IMMUNE Building Standard™ is based on practical investment in a Healthy by Design System (HbDS), which incorporates a network of specialised sensors that measure the indoor environment parameters such as air, humidity, temperature, or CO2 levels. Data on the building's performance is collected in real time, empowering the building operator to verify and adjust the condition of the building to a healthy performance level to provide occupants with the space and confidence for a healthy living experience. Every IMMUNE™ certified building incorporates advanced technologies, specialised equipment, and dedicated personnel, an IMMUNE™ Steward, to manage the building's operations and health parameters, as recommended in the standard.
Mark Fitzgerald, Managing Director of Navana Property Group, commented: "Last year people probably spent more time at home than ever before, but while we've seen changes in the way offices, transport hubs and shops are managed to keep people safe, there's been little discussion about what should happen in a multi-residential setting. People want reassurance, particularly as we learn to live with Covid-19 and prepare for possible future outbreaks. This is not about creating sterile spaces, but about making sensible design and management changes. IMMUNE™ certification shows our commitment as a professional property and asset manager to do everything we can to keep our customers healthy and well."
Webinar: Now hiring! Overcoming the challenges of recruiting for soft services.
Recruiting for soft FM services is proving more difficult in the post-Covid workplace. So, what can FMs do to overcome this?
Sara Bean, Editor of FMJ, and Jess Pritchard, Head of Corporate Sector at Moneypenny are joined by panellists:
Mark Whittaker, General Manager, Thomson FM & Chair of IWFM
Ian Wright, Soft Services Manager, University College London
David Bauld, Group Facilities Manager, Paradigm Housing
Nicola Lathbury, Managing Director, Hexagon FM
Together they will discuss the current skills shortage in a number of FM areas, ways to keep staff engaged in their job through brilliant culture, and how outsourcing could be a solution to the recruitment issue. Secure your place now for Thursday, 25th November at 11am.
To register click here.