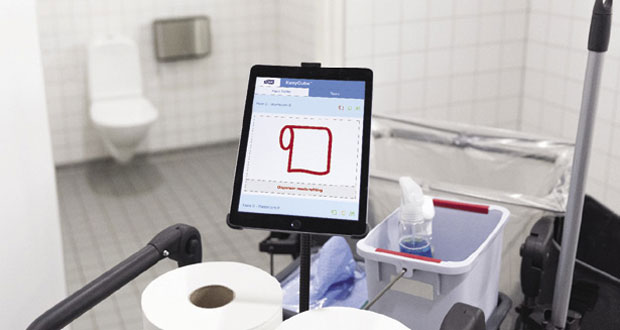 Technology now plays a major role in washroom service and maintenance, says Stuart Hands from Tork manufacturer Essity. Plus some expert tips from Kärcher UK on deep cleaning washrooms
The use of technology has boomed during the pandemic. People who were previously screen-shy have become increasingly accustomed to using video-conferencing platforms such as Zoom and Teams to allow them to socially-distance while speaking to colleagues and friends.
Most of us are now familiar with the NHS Test and Trace app; we scan the QR code as a matter of routine when visiting bars and restaurants and we have also become adept at ordering food and drinks via an app.
Technology has even found its way into the washroom, where sensors are helping FM and cleaning teams to rationalise their maintenance visits. These digital solutions have the twin advantages of cutting labour costs while also avoiding logjams and aiding social distancing.
Sensors placed in washrooms and inside dispensers allow cleaning staff to remotely monitor refill levels and visitor numbers via a smartphone or tablet. Whenever it becomes apparent that a particular cubicle has received extensive use or when a soap or paper dispenser is running low, the cleaner is able to target the relevant washrooms and focus only on those dispensers that need refilling. This avoids the need for a manual check of each unit.
Stock checks and visitor counts are increasingly going digital; so too are cleaning schedules. Systems in place in many away-from-home washrooms now enable cleaners to tick off each job on a smartphone as they complete it.
Such systems provide them with a handy checklist while also allowing FM managers
to gain an overview of the whole job to ensure that no vital task has been allowed to fall through the cracks. As a result, digital cleaning records held in a "cloud" are increasingly replacing the scruffy, scribbled notes often seen on the back of washroom doors.
PRIVACY ISSUES
While it is true that washrooms can be run more efficiently with the aid of technology, digital solutions may spark a backlash from users if they appear to be too intrusive. For example, facial recognition technology is currently in use in some public toilets in China to prevent the over-consumption of toilet paper.
After the visitor's face has been scanned, he or she is prohibited from taking out any more paper for a seven-minute period. Video-sharing operator Kuaishou Technology in China, sparked a furore in 2020 after the company was found to have installed countdown timers above the toilet cubicles at its headquarters. Employees were outraged at the idea of their toilet visits being timed, but the company claimed that the devices had been installed for testing purposes only. They were quickly removed.
And again in China, employees of technology multinational Alibaba have lodged complaints about an internet-connected smart toilet system recently installed by the company. This uses an infrared detector to monitor the occupancy and odour levels in each toilet cell. The aim of the system was to automatically trigger exhaust fans and send cleaning requests to cleaners when a bad smell had been detected.
TALKING POINTS
However, there are many ways in which technology can be used to enhance washroom efficiency in a less intrusively manner – while also introducing a fun factor. For example, rail operator Virgin Trains introduced "talking toilets" some years ago to reduce the risk of cubicles being put out of action during rail journeys. The talking toilets urged travellers to refrain from flushing away anything that might cause a blockage. Besides being highly useful, the technology here had the positive knock-on effect of creating a talking point and enhancing the Virgin brand.
"Talking-point" washrooms can create a buzz around a particular venue and attract more traffic – and technology can play a major part in this. For example, before the COVID-19 pandemic there was a growing trend among bar and pub managers to install video screens in the men's washrooms to allow "gamers" to play virtual football, drive a car or operate a tank while using the loo.
Some shopping centres in China now feature augmented reality screens in the ladies' washrooms that allow women to virtually try on make-up. The screens act as intelligent mirrors enabling female visitors to tell how they would look if they applied a particular lipstick, blusher, eyeliner or eyeshadow.
WELLNESS TOILET
Sometimes technology is used in public washrooms for health reasons rather than to create a buzz or to boost efficiency. However here, too, it can be controversial.
In December 2019, concerns were raised about a "wellness" toilet developed at the University of Wisconsin-Madison. Designed to create a snapshot of the user's lifestyle, the smart toilet contained sensors for assessing sleep patterns, exercise, medication and alcohol and caffeine intake. But there were fears that hackers could access this sensitive information while it was being transmitted to the user's physician.
However, washroom technology has no need to be as innovative, futuristic and bizarre as these examples suggest. In fact, most of us use toilet tech every day – in the form of automatic flush systems, lights, taps and dispensers designed to prevent visitors from having to touch washroom surfaces. And these are continuing to play a pivotal role in preventing cross-contamination and enhancing customer confidence during the COVID-19 pandemic.
So it is clear that technology in the washroom is an invaluable asset and is here to stay. And hopefully it will continue to evolve to ensure that tomorrow's toilets are smarter, more innovative and safer than we ever thought possible.