With the COVID-19 pandemic still fresh in the public consciousness, hygiene remains a major topic of discussion and consideration for all facilities. What better area to address first than the restrooms, which are frequently considered a hotbed for germs? For decades, Excel Dryer, UK has been working to change that perception through hygienic and automated high-speed hand dryers. The XLERATORsync®, a component of the sink system available exclusively through Excel UK, is Excel Dryer's next revolutionary leap.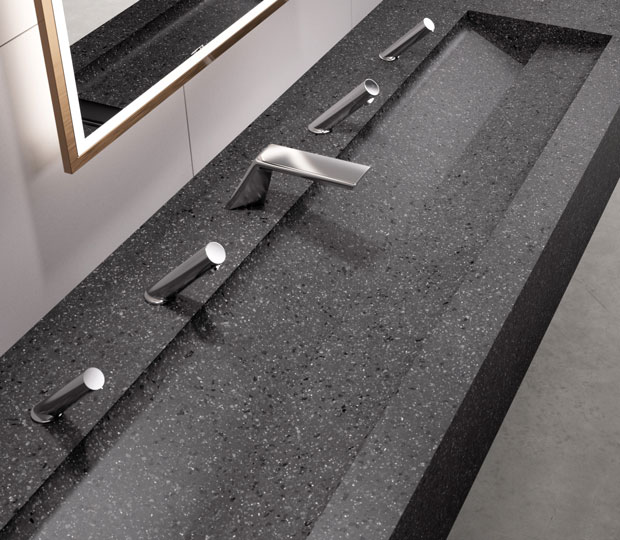 A Touchless and Hygienic User Experience
The sink system featuring XLERATORsync is an intuitive, unified experience with water, soap and air alongside a custom wash basin. It is the product of modern design innovation to create cleaner and more hygienic restrooms, allowing users to wash and dry their hands in one location—all while never touching the system.
Incorporating patented high-speed hand drying technology with a HEPA Filtration System, which comes standard, the XLERATORsync provides an added level of protection against germs. Viral filtration testing conducted by LMS Technologies in April 2020 challenged XLERATORsync with approximately 380 million viruses. When the results came in, the system had successfully removed 99.999% of viruses from the airstream.
Additional System Benefits
The XLERATORsync Hand Dryer from Excel Dryer features adjustable speed, sound and heat controls and a sound suppression air delivery system. The dryer uses a "reverse airflow" design to blow both air and water away from the user, who walks away with clean and completely dry hands. There is no such thing as standard size—everything is manufactured to order—so it fits every restroom perfectly. Facility managers can give their visitors not just peace of mind, but an elevated and hygienic hand washing experience with the sink system featuring the XLERATORsync.
-ends-
To have your industry news published in the pages of FMJ's news section, Month in FM, and here online on fmj.co.uk, please send your news and image to Danny Grange danny.grange@kpmmedia.co.uk
The view or information contained within these unedited press releases, are that of the company producing it and not necessary the views of kpm.