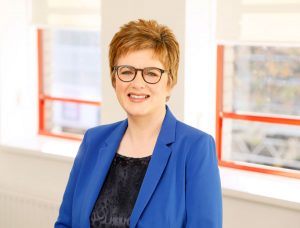 Margot Slattery, ISS Group Head Of Diversity & Inclusion has been appointed Global Ambassador for Diversity & Inclusion, 2021 by the All Ireland Business Foundation (AIBF), an accreditation body, tasked with enterprise development and the promotion of 'Best-in-Class' for business in Ireland.
Slattery receives this highest honour in recognition of her outstanding contribution to the promotion and development of improved standards for all, within the industry but also the wider community.
A proud Irish national, Slattery was one of the key contributors to the country's Same-sex Marriage Act and one of the 11 Founding Partners and signatories of Ireland's first Diversity Charter. Her longstanding commitment to diversity and inclusion has earned her  awards to include being recognised in the Financial Times' Top 100 OUTstanding LGBT Business Leaders for four consecutive years.
Slattery's impact is also recognised at international levels. In 2017 she received the honour of being named Chevalier de l'Ordre National du Mérite (Knight of the National Order of Merit) by the French Ambassador to Ireland.
In recent years, Slattery has received:
The Business Leaders Award, WXN 25 'Most Powerful Women in Ireland' Awards for 2018
'FM Leader of the Year' 2018 presented by the Facilities Management Awards – Ireland
'CEO of the Year' at the Image Businesswoman of the Year Awards for 2016
Irish Tatler 'Businesswoman of the Year' for 2016
Speaking of her appointment Slattery said: "I am honoured and humbled to be entrusted as the Global Ambassador for Diversity & Inclusion for 2021. On behalf of all those who work in making inclusion a way of life, and my 400,000+ colleagues and placemakers at ISS. Whom every day strive to be the change we want to see in the world, and our work with people and places helps to make that happen."
Kapil Khanna – Managing Director, All-Ireland Business Foundation commented: "Her contribution to the promotion and development of D&I Standards in the Workplace & in society is exemplary. Truly a well-deserved accolade. We are honoured to have you."
FMJ and Grundon Waste Management have launched the 2021 waste and recycling management survey. It's the fourth year for the annual appraisal of how FMs manage their waste and recycling activities and one which marks an unprecedented period of disruption to services due to the pandemic.
In order to understand how FMs have navigated their way through the last year and their plans for meeting stringent waste and recycling targets we've posed a series of questions – aided by the advice and experience of our editorial steering committee.
The results of the 2021 survey will be published in FMJ magazine and form the basis of a white paper co-written by FMJ and the experts at Grundon on how to approach waste and recycling strategies.
To take part in the survey click here.