It's surprising to learn that even prestigious office developments built in the 21st century now require refurbishment. Whilst many still have visual impact, the experiences of those working in these spaces may not be so positive which may be because the internal areas don't meet the needs of the current occupiers. Additionally, improvements in understanding of the importance of light, and technological advancements in delivery and management of light levels mean that when a refurbishment is planned, reviewing and refreshing the lighting is key. One such site is One London Wall Place; designed by Foster & Partners and constructed in 2003 to provide 200,000 ft2 of office accommodation.
Having refurbished three upper floors, Collins Construction was tasked with rejuvenating the ground and first floor reception areas. The double height entrance space lacked inspiration and the ceiling mounted down lights, with metal halide lamps delivered inefficient and ineffective lighting whilst requiring regular maintenance.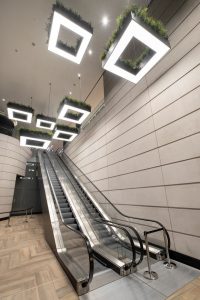 LSR Electrical and Complete Lighting Services (CLS), were tasked with delivering the architects vision of new feature lighting that would resemble suspended planting. Daniel Pritchard, Contracts Manager, LSR Electrical explains: "We have a long-standing relationship with CLS lighting so approached them to come up with a custom-built solution."
CLS had to consider not only the height of the reception area but also the high light level output required. Rob Davies, CLS, said: "Our design features 10 bespoke luminaires. Fabricated from steel, each measures 1.5m square, is 300 mm deep and when planted weighs 115k. Each is suspended six meters above ground level, with a set of eight suspension wires.
"Offering greater energy efficiency and performance, the new lights contain Tridonic's proven LLE 24x560mm 1300lm ADV 5 linear LED board along with the associated LCA 50w one4all driver. These components deliver high colour consistency and flexible configuration as well as a minimum of 72,000 hours of light with Tridonic's five-year guarantee, negating the need for regular maintenance.
"The new lighting provides a real feature to a once empty space and draws people in, it has improved the environment and provides consistent and correct lighting levels," commented Pritchard.
So, whilst London offices may not be as busy as they used to be, those currently using One London Wall Place, or planning to return, are assured of a bright welcome.
For business enquiries please contact: Simon Blazey, Strategic Solutions Sales Manager, Tridonic Simon.Blazey@tridonic.com.
-ends-
To have your industry news published in the pages of FMJ's news section, Month in FM, and here online on fmj.co.uk, please send your news and image to Danny Grange danny.grange@kpmmedia.co.uk
The view or information contained within these unedited press releases, are that of the company producing it and not necessary the views of kpm.