Alistair Scott, Founder and Operations Director at IEM explains to Sara Bean why clarity is crucial in simplifying the complexity of estate management
Back before the pandemic hit, one of the biggest talking points within the FM sector was addressing the 'race to the bottom' in the procurement and delivery of services. The dire outcome of unnecessarily complex procurement and tendering processes which resulted in unsustainable contracts was encapsulated in the infamous collapse of Carillion in 2018.
But in the same year, Alistair Scott, a military trained mechanical, electrical and electronic engineer, with extensive experience of working on the client side of FM, launched a new company intended to avoid overly complex FM and estate management contracting. Instead it offers clients simple, transparent and effective solutions.
Explains Scott: "Working on the client side I could very clearly see that if you don't listen and determine what clients are trying to achieve you can go down a road of no return, putting across a proposal that doesn't really mean anything to them and halting the discussion from going any further. That way no one is a winner. Instead, by bedding yourself into the organisation to gain an understanding of what they want to achieve you make things a lot clearer, which in turn allows you to have productive conversations."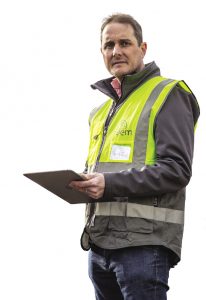 Scott began his career on an apprenticeship scheme in the Royal Electrical Mechanical Engineers (REME). He qualified as an aircraft engineer and was promoted through the ranks to a Class One Sergeant, working across the world, from the jungle to Bosnia, Kosovo, Northern Ireland and Germany. After being recommended for a commission, he arrived in Sandhurst straight from serving in the Iraqi war. By the time he left the army he had achieved the rank of Captain and the position of Engineering Officer. Moving into the role of Terminal Facilities Manager at Gatwick was a natural fit he says: "For many former military people, FM is a natural place to end up. In fact, in my first non-military role at Gatwick Airport, one of the other facilities managers for landside operations and his boss were former military people. You look after men and material in the military, getting it to the right place at the right time. When you add the commercial element it's about turning up to resolve problems, provide technical solutions and ultimately delivering on the day. It's the same with FM. The biggest role is looking for overall resolution. How can you add value to this community and how can you add value to the client?
"Coming into the industry, with a lot of areas to oversee, whether it was legislation, standards, or different ways of working, I had to distil it relatively quickly and ultimately manage upwards to my clients the airlines, and their clients, the passengers. That was probably when I realised the importance of having the ability to listen, use my technical ability, distil it and pass it over in a simpler way."
His experiences at Gatwick and latterly Liquid Capital, AkzoNobel (ICI), TGB and Cloudfm gave Scott a good feel for the importance of combining technical know how, an understanding of what the client wants to achieve and the ability to communicate this to the client. Frustrated at the unnecessarily complex nature of the industry he decided to set up his own company, to help clients better understand their buildings, have more control over them and ultimately enhance their estates.
INTEGRATED ESTATES MANAGEMENT
IEM was launched to offer a full range of estate management services. This includes compliance in areas such as electrical and water management and lighting, the delivery of specific projects and expert maintenance services; ranging from a small fix to project managing a large estate.
Says Scott: "Prior to forming the company, potential clients, including Chatham House and CVS Group, were asking if we could help them. That enabled us to build the brand from there. Our core market is SME covering a sub £4 million spend where the big players don't go but is still a vast market that needs our support."
The heart of the company ethos is to make estate management simple, transparent and effective. To help achieve this, IEM created a Five Point Plan that covers end-to-end estate management. These are designed to help clients:
Know their assets;
Understand their condition;
Control compliance;
Package priorities;
Manage delivery.
According to Scott the plan can be tailored to meet a client's exact requirements or IEM can work on one or all five points with them.
Scott explains: "One of our main mantras at IEM is simplicity because if you make something simple it is understandable and if it's understandable it's easy to explain – and only then can you get the buy in, whether that is financial or support from the wider business. This is ultimately what we're looking to do in the industry, and one of the core lynchpins on how we go to market is in understanding the heart of what our clients are trying to achieve."
Significantly, when it came to the company title, Integrated Estates Management was a carefully thought out brand name.
Explains Scott: "We wanted to make a statement to the sector that it isn't traditional facilities management. Because what you are getting from us is that competency and strategic approach, but it does go down to the delivery and the detail.
"Three or four months in our journey, we found it really hard not to mention FM, as it does enter that sphere of influence, but our integrator model (integrating our technical expertise into the facilities/property department) supported by the 5-point plan framework enables us to bring in the right teams to bear when you need them."