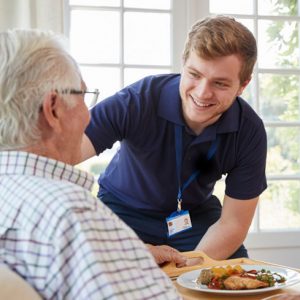 Contract caterer, Elior, has announced a three-year partnership with Alzheimer's Society, which aims to raise over £100K for the charity.
As part of the partnership, Elior will share best practice on good nutrition for dementia patients. The caterer also has ambitious plans to build awareness across its 10,000-strong workforce with the help of Alzheimer's Society's successful Dementia Friends programme.
Dementia is the UK's biggest killer. Someone develops it every three minutes, and there's currently no cure. Alzheimer's Society campaigns and raises money to fund research and help people living with dementia. They deliver support for individuals and groups – online, in-person and on the phone. And they're transforming the way the nation views and responds to dementia through pioneering Dementia Friends initiatives.
Elior UK's healthcare division, Caterplus, works with dementia patients in care homes across the UK, keeping them well-nourished with award-winning texture modified food and grazing boxes. Elior chefs, nutritionists and food service staff will be sharing this expertise with Alzheimer's Society's networks as part of the partnership – with the shared goal of helping more people with dementia to enjoy the benefits of a healthy diet.
Elior staff will be encouraged to take part in Alzheimer's Society's campaigns throughout the year, adding their voice to powerful campaigns like Cure the Care System, which campaigns for social care reform. To raise vital funds for the charity, there will also be the chance to get involved in diverse personal and company-led fundraising initiatives such as Denim for Dementia.
Elior announced the collaboration internally at the start of World Alzheimer's Month, issuing a national call for Charity Champions to drive the cause forward across the business. Work kicks off in earnest after the month ends, when fundraising targets are set, and a calendar of fundraising opportunities communicated to staff.
Charlotte Wright, Elior Head of CSER said: "We're delighted to announce this collaboration. It's a powerful cause, which touches so many lives across the UK. Despite this, it doesn't get the recognition it deserves as a challenge many people struggle with in their everyday lives. That's why we're particularly excited about using the opportunity to open up a dialogue with the huge proportion of our staff members who are touched by Alzheimer's disease and other forms of dementia.
"To build awareness internally, we have ambitious targets to upskill our workforce to become Dementia Friends by the end of the three years. After all, this will not only improve our services with these client groups, it will also help staff to empathise with the challenges and get fully behind the cause."
Siobhan Nugent, Head of Regional Engagement at Alzheimer's Society, welcomed the announcement: "We are absolutely thrilled with our significant new three-year partnership with Elior, particularly at what is such a challenging time for people affected by dementia.
"The coronavirus pandemic has been devastating for families across the UK, where there are currently around 850,000 people living with the condition. People affected by dementia need us now more than ever, but the pandemic has hit us hard financially, despite an unprecedented demand for our services.
"The money will help us reach and support more people through our vital services which have been used over six million times since March 2020 and have been a lifeline to thousands."
Six steps to facilities management in the post-pandemic world
As workplaces open up and restrictions lift the role of the FM has become more important than ever.
The challenges presented by the Covid-19 pandemic are now providing a valuable opportunity for FMs to demonstrate their skills and adaptability. Whilst on a practical level FMs are responsible for making buildings safe and comfortable, they are also crucial in attracting people back to the office.
In speaking with industry leaders, it is clear that there are six key areas of focus. Zip has published a white paper which looks at each one, suggesting ways that facilities managers can tackle the complexities and pace of a return to the workplace, whilst demonstrating clear and effective leadership along the way.
To find out more download the white paper here.