In June 2022, The Sustainable Facilities Management Index (SFMI), in partnership with BAM FM, released a standard to calculate Scope 3 carbon emissions for the facilities management sector – "Setting the foundations for net zero". The vision aims to create a consistent and transparent measurement approach for the industry, developing FM service level emission factors, which are based on real-life data, to support more accurate reporting and ultimately build a sectoral decarbonisation pathway.
After the success of this report, the SFMI are now looking at their next research topic, to commence at the start of 2023. The current proposed subject areas are, Climate Resilience, Biodiversity Net- Gain, Circular Economy, Social Value and Diversity & Inclusion. It is hoped that results of Stage 1 of this new research project, will be similar to that of the first Scope 3 report, published last year. The end goals of Stage 1 may include: a framework for management, overall guidance, tools for data collection or provide valuable information that helps to upskill the FM industry.
This new research work will feed into the SFMI's purpose to drive ESG leadership within the FM industry by promoting services that have a positive benefit across the value chain. Doing so will create a race to the top that will leverage FM's ability to accelerate emissions reduction, wellbeing benefits and social value from the built environment.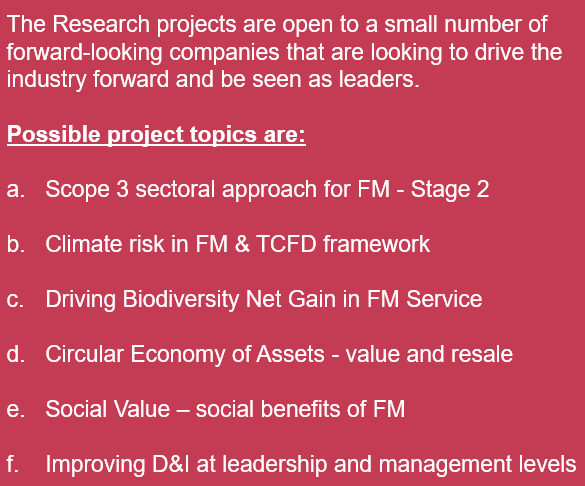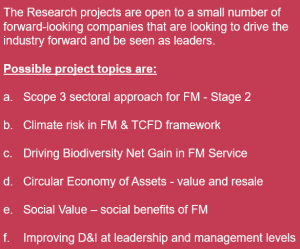 To get involved, click here to answer this short survey to register your interest in future SFMI research topics. Possible areas include climate resilience, biodiversity net-gain and social value.