In the latest in our series which celebrates the contribution made by FMs working at the service front line, Facilities Coordinator for NHS Property Services, Ana Maria Pinto describes how completing a demanding apprenticeship programme has helped her manage her team of cleaners working at the NHS front-line
NHS Property Services is a government-owned organisation with one of the largest portfolios of NHS estate in the UK. It comprises more than 3,000 properties with 7,000 tenants across England, has a total value of more than £3 billion and represents about 10 per cent of the total NHS estate – ranging from listed buildings through to state-of-the-art integrated health campuses.
Over the past year, NHSPS front-line staff have gone through an incredibly challenging time. Yet, despite the pandemic, Facilities Coordinator for NHSPS Ana Maria Pinto has still managed to complete the Level 3 Leadership and Management NHSPS apprenticeship, which is designed to support those within team leader / supervisor roles who wish to develop their careers with further professional qualifications and build on their knowledge and confidence.
Pinto and her team of almost 70 domestic cleaning staff are based in Leeds, responsible for the cleaning and infection control of two major hospitals, Skipton General Hospital and Withernsea Hospital and around 40 clinical healthcare sites throughout Yorkshire and Humber. Pinto, who completed her apprenticeship with the outstanding grade of distinction, explains: "I'd already worked for some time within the cleaning industry as a team leader or deputy manager before joining OCS in 2015. Prior to transferring to NHSPS in December 2018, I was working in OCS Group as a Deputy Manager. I had started there as a Supervisor then moved into a Deputy Manager role, so when I was TUPED over to NHSPS I took the Facilities Coordinator role.
"When the course became available, I had a discussion with my line manager where I told her I'd like to gain more management and leadership skills. She said it would be a very good course for me because I wanted to hone my management skills with my team.
"I joined the course excited by the prospect of receiving a formal qualification in a subject that I am passionate about – managing people. I began my training at OCS, where I undertook Level 3 Leadership and Management for five months before I moved to NHSPS.
"During the course I was surprised to learn about all the different styles of management which has really helped me develop my team. It has given me a more in-depth knowledge on how to be a leader, how to manage my team and any issues between them, and crucially, how to have those 'difficult conversations'."
COVID-19 CHALLENGES
"The pandemic has been both a very challenging but rewarding time. We've learned a lot together and my team has showed a lot of resilience throughout. At the beginning [of the pandemic] there was some confusion about what was the best training to give our domestics dealing with such an unparalleled situation, but we came together as one and ensured that everything went smoothly. Due to the severity of the pandemic, our domestics were understandably hugely concerned about safety. As their manager, I did what I could to reassure them and our clients that we could continue to deliver the best service.
"I believe one of the keys to keeping our staff morale up during these times has been the high level of training and skills we've been able to offer. This, combined with the right PPE, is fundamental to helping them feel more at ease that the risks are minimised because they have the best knowledge and the right protection. We have reassured them that they are as safe as we can make them, and they've responded by showing us how resilient they can be.
"More recently we took on some additional agency staff as we're now working on the vaccination sites. During the pandemic, we've also had to redeploy two members of staff who were clinically vulnerable. But throughout the crisis, if our staff were worried, or have any questions, they know they can come to us and we are here for them."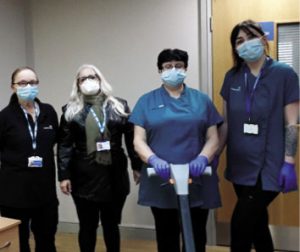 Ana Maria Pinto has also worked hard to ensure that despite the challenges of the pandemic, training opportunities are still there for everyone on her team.
She says: "There was a team leader who took the same course as me as I thought that would be great for her development. I'm always asking my staff to take training opportunities as sometimes they assume 'I'm just a cleaner I don't need it'. I think it's important to encourage them to do more for themselves and take time to have conversations with them on how best they can develop their skills."
One of such training opportunities is the internal apprenticeship programme 'Stepping Stones'. This course is designed for those who are directly impacting the NHS' front line, including caretakers, domestic assistants and receptionists. In the first cohort, 16 people joined the Stepping Stones, supporting those who pass a rigorous interview process in 'being the best they can be'. Stepping Stones isn't necessarily about progressing to the next career level, so you don't need to have aspirations to become a manager in order to complete the programme. It is an opportunity to develop additional personal skills so that you can be your best, or you may want to use it as a 'Stepping Stone' to develop yourself for a future role. The course focuses on confidence, communication, customer service skills and culminates in most achieving Level 2 in FM delivery.
"Because of the key role cleaners have played during the COVID-19 crisis, people now recognise what we do. My team are the first people on site and they do work they are doing with a smile even if, at the back of their minds they're worried, about going back home and putting their family at risk. Our duty of care is to ensure we always show our appreciation for what they do, and constantly check they're feeling as supported and protected as possible."
For the future, Pinto has just enrolled for a Level 4 in leadership and management qualification, "because I know there's always more I can learn. I've been unable to see my parents back in Portugal for over two years so I'm hoping when travel restrictions are relaxed I can fit in a trip, but meanwhile professionally, I want to grow and develop within the company while continuing to do what I can for my team."