Removing the barriers between its people by replacing walls with planting to create natural breaks, was a key part of the attractive interior design for the new offices of the software developer IFS to encourage wellbeing and collaboration
Every major organisation likes to argue that its values underpin what it does – but not many can legitimately claim that this drives a decision to move its offices from High Wycombe to Staines. Most businesses make a choice to uproot only when the lease runs out or they have outgrown their existing space. But then, how many occupiers are like the privately owned, global developer and provider of enterprise software, Industrial Financial Systems?
Nicola Carton, Director and Global Head of Facilities Management at IFS, explains.
"What we needed was somewhere that was more connected in all sorts of ways. Somewhere where we could showcase our brand. Somewhere we could showcase to our customers. Somewhere we could be close to the airport, motorways and city. Somewhere where it would be easier to attract top talent."
The IFS values are agile, collaborative and trustworthy. In theory, one flows from another and the space at High Wycombe did not allow that to happen. The teams were split across two floors in a multi-tenanted building that prevented any sense of flexibility and movement, let alone proper collaboration. If you're not collaborating – working as a team in an open manner – it doesn't foster trust. But that agility is also about being able to visit shops; the flexibility to do dry cleaning, choosing to visit bars and restaurants easily, safely and without the need for a car after work. The High Wycombe office situated at the edge of a business park didn't allow for that.
"We're now a 10 minute walk along the Thames path to Staines. Two supermarkets are within minutes and there's a selection of bars, restaurants and hotels for anyone visiting from out of the UK and we're closer to transport hubs too," says Carton. "The whole location is healthier and more connected in an emotional and physical way too."
That last point, relating to wellbeing, is critical. It might not be listed as a core value, but a golden thread throughout the IFS culture is the sense of wellbeing. For it to be an agile business, collaborative and trustworthy it needs its employees to want to enjoy the environment in which they spend most of their day. That is not some HR fad, it is a business requirement. So, following on from that, it was a strategic decision to move sites and fit out the new site, Bourne House at Staines, in a manner that reinforced its values.
"It's important to have a space that encourages teamworking and that physically, not just notionally, breaks down silos. So, we have taken down almost all of the walls in the space. Instead we have used planting to create accents of nature to soften the workplace," says Carton. "But the main focus was to create something beautiful."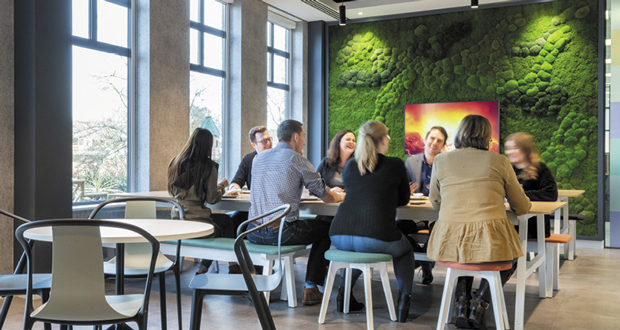 DESIGN BRIEF
To help with the pursuit of that pure ideal, IFS hired the design team from Area, Europe's leading workplace design and fit-out specialist, to come up with original ideas and then oversee the fit out of the 26,000 sq. ft space. Design Director, Kathryn O'Callaghan-Mills explains.
"From the outset our brief was to provide a workplace that was going to be a sanctuary for employees, relaxed and welcoming with a boutique feel. That meant blending textures, varying ceiling features and keeping each zone connected: using a lot of natural light and soft furnishings as well as planting to break down physical barriers and create a variety of places to work for people either in groups or on their own."
At the root of the brief was a focus on wellness. That meant prioritising the physical and emotional wellbeing of anyone working at Bourne House. One way to do that is guaranteeing an allocated workstation for anyone using the space more than three days per week. Straight away that removed any anxiety and reflected the nature of many of the employees who often have very focussed tasks.
"As a team, IFS & Area have created a collaborative, flexible space for the 175 people predicted to use the building alongside any visitors. It was a refreshingly brave brief that specified employee wellbeing facilities and a state-of-the-art technology solution at the core of the workplace design. IFS' UK HQ is set across a three-storey building with the second floor accommodating a gym, the prayer room and IT server room, the first floor accommodating the main working environment and the ground floor being utilised for the client's transient workforce, client-facing facilities, a staff restaurant and auditorium. The auditorium is also used for team meet-ups and as an event space for partner and customer events. IFS previously used hotels for these functions, by bringing this facility in house means that they can offer a more personal experience by welcoming guests and employees into their own setting." explains O'Callaghan-Mills.