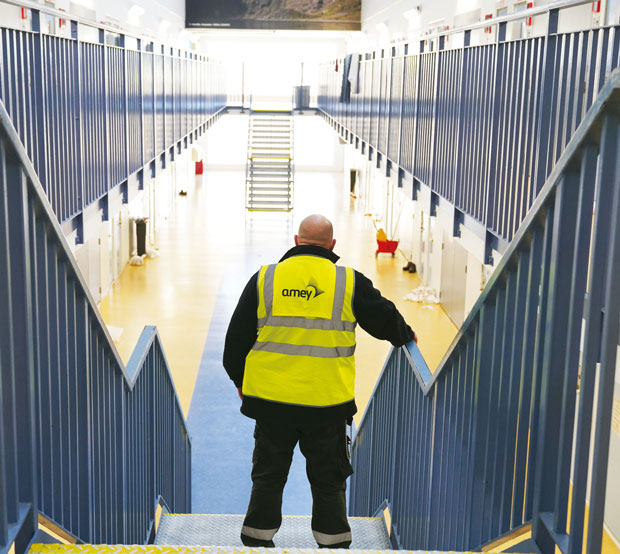 Sara Bean visited HMP Onley near Rugby to discover the particular challenges for Amey's onsite Facilities Management team in maintaining a men's prison
According to figures published by the Parliamentary Justice Committee – as of 8th September 2023, there were 87,128 people in prison in England and Wales; 83,590 in the male estate and 3,538 in the female estate.
In October the Lord Chancellor announced to a series of reforms to "make the best use of our prisons" by ensuring there are enough places to lock up dangerous criminals but also give the lowest risk offenders the greatest chance to turn their lives around.
Aside from this, the Government's Prison's White Paper Strategy has already promised 20,000 additional prison places will be created by the mid-2020s – it says it has already boosted prison capacity by an additional 2,300 places. This has been achieved through measures including a greater use of double occupancy of cells where it is safe to do so and delaying non-urgent maintenance work.
What may be not be apparent to those outside the FM sector is that many facilities management providers are contracted to provide prison maintenance. Amey delivers facilities and asset management services, including planned and reactive maintenance, cleaning and project management into 60 Prisons on behalf of the Ministry of Justice (MOJ) and Her Majesty's Prison and Probation Service (HMPPS), across the North East, North West of England, East and West Midlands and Wales.
HMP ONLEY
One such facility is with HMP Onley, a category C prison, also known as a training prison, that houses around 740 inmates. The Prison Authorities provide a range of education and training opportunities on a full-time or part-time basis, covering numeracy, literacy, and IT. Some prisoners can also study for National Vocational Qualifications (NVQs), distance learning courses and other qualifications.
Onley was originally built as a Borstal in 1968, was repurposed to house sentenced adults in March 2004 and transferred into an adult category C training establishment in March 2010. The prison also provides training in catering, fork-lift truck driving, gardening, contract work, kitchen work, industrial cleaning, and recycling.
Site Manager Stephen Bailey who runs the Amey facilities management team at HMP Onley first joined the prison staff 17 years ago as a labourer, moved into a maintenance role via an apprenticeship scheme and later took on a supervisor role. He was TUPED into Amey in 2015 when the provider took over the maintenance role and became site manager three years ago.
He explains: "Maintaining the whole site is a huge responsibility. As a team we're tasked with delivering a compliant estate – which can cover anything from managing basic compliance tasks to undertaking routine repairs and remediation works.
"We are focussed on supporting the Governor and their team to create better outcomes for the residents. In addition to this we also adopt an advisory role, offering guidance and steer on topics such as energy management and Net Zero strategy which we do alongside other members of the Amey team."
Bailey explained: "There are 12 wings here, housing over 700 prisoners, with the biggest challenge being managing an estate that is constantly in use and which cannot be adapted and upgraded without a significant impact on service delivery and the lives of the prisoners."
Visiting the site, you're struck by the sheer scale of the institution. All the buildings, some of which date back to the middle of the last century, are contained within a campus like facility, albeit one with high walls and many, many locked gates. In the training facilities we were shown how inmates can acquire the basics construction skills and then move onto working in more skilled areas like carpentry or even how to assemble an electric bike.