Jeff Dewing CEO of Cloudfm explains to Sara Bean how going against the grain has helped him build a successful business
The lack of influence FMs have at Boardroom level has long been a problem, with concerns that the sector is still excluded from strategic decision making. What if FM providers insisted that the only way they'd agree to provide FM services to an organisation depended on stakeholders – including the C-suite – engaging with them directly throughout the duration of the contract? This would go against the prevailing wisdom that suppliers must bend to the will of clients who'd prefer FM takes a back-room role. It's this ambitious approach that has helped Cloudfm become a key influencer within FM in the 10 years since its launch.
Ambition combined with going against the grain are key to the career success of Jeff Dewing, CEO of Cloudfm who has even written a book about doing the opposite. He started out as a refrigeration and air-conditioning engineer; where after achieving [an unheard of] goal of becoming a supervisor at just age 19, moved into management roles, progressing through a number of key FM companies to board director level at FM companies with £100 million turnovers. His experiences at both grass roots and management level helped inform his opinion of FM and how to avoid some of the bad habits that are endemic to the sector.
He explains: "One common thread of the industry is that of bad behaviour, not because of bad people but in having no choice due to the environment where people are overpromising and under delivering. That has been the market's fault too; promising to make it 20 per cent cheaper, take the work and try and deliver later. This pushes performance into a downward spiral and you get a cyclical process whereby an FM services provider wins the contract, then upsets the client by failing to deliver. The client goes back out to market and employs another company where performance is no different and so it goes on and on."
He continues: "The problem is that no one has ever been brave or courageous enough to say, 'guys we need a reset'. We need to change the way we all think because otherwise we'll keep pushing a square peg through a round hole. We're an intelligent species so why are we behaving so unintelligently? I realised it didn't matter where I worked, I could never, ever influence a complete change of mindset, it was impossible. I decided I wanted to have the ability to influence the environment and the only way to do that was to start a business."
CLOUDFM ETHOS
The twin pegs of the Cloudfm ethos are transparency and technology. Its internally-developed Freedom platform is a tamper-proof workflow management system which can't be deleted or edited, meaning there are no gaps in information, good or bad. Poor performance has no place to hide and helps create a mutual sense of trust along the entire supply chain.
Says Dewing: "The solution has got to be behaviour and culture. Where tech comes into play is in enabling us to inform behaviour and create openness, honesty and transparency. As an example, if the engineer on the shop floor says 'Jeff was a real pain to deal with and upset me and I never want to go back there again,' traditionally that information is filtered through the transactional process, and before it gets to the client someone says, 'the client can't see that' so they edit it out because of fear of consequences. With our technology everybody sees it and what we do instead is re-educate the engineer so they don't behave like that again. You might not like the data you see but it ensures you deal with the real problems not the symptoms and you have no fear of being transparent.
"We've had this way of working which has stood us in good stead over the last 10 years and one of the reasons it's worked is because if we've 20 potential clients come into our offices we might only work with two of them as we're interviewing the client to see if they're ready for change and if they're not we don't put ourselves through that pain.
"We won't engage with a client who pretends to be ready but isn't, which is why we've a small number of large clients. It's only the early adopters who are seeing the value and benefit as you can't expect the entire market to be willing to take that step."
The traditional procurement model he explains is where a client looking for a solution for their portfolio employs a consultant who puts together tender documentation. This goes to market and supplier's tender content that they think will help them win the contract, rather than the ability to deliver.
"What we say is that we will never ever engage in that process because you're just doing the same thing and expecting different results", says Dewing.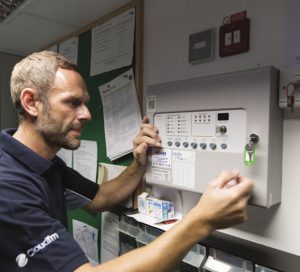 "The first thing we do is sign an NDA with the [potential] client and we go in and interrogate their FM spend for the last five years. They will say, 'but we don't know what that is' and we will say, 'we know, no one does.' We're not interested in the incumbent's data but the client's data. We come in with our specialist accountants and go through it with the purchase ledger team and the CFO. We'll present that data back explaining what they've been doing for the last five years. That's when we go away and see if we can add any value.
"We then go back with a proposal that gives them a clear understanding of what they've been doing versus what we're guaranteeing as an outcome. That's what we do differently and every client we've ever won has been through this negotiation, not through a tender exercise because when you do a tender you're buying a promise and you don't know if that is true until way after the fact, which by then is too late."