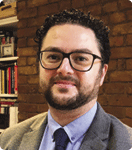 Piers Zangana explains how some of the biggest names in the hospitality sector have come together to train and support catering service workers adversely affected by the impact of the pandemic on their livelihoods
If there is one positive to take from the COVID-19 pandemic, it's the consequential realisation that the hospitality sector is one of the most significant contributors to employment in the UK. According to a UKHospitality report, workplace, education, healthcare, and defence caterers, account for more than 293,000 jobs in this country, generating a collective turnover of £10.9 billion.
These numbers speak for themselves.
However, the shutdown and subsequent slow return to workplaces in major cities such as London, Manchester and Birmingham has meant that fewer catering team members have been back to prepare, cook and serve food in the previously bustling staff restaurants across the UK. The impact has been grim. Around 20 per cent of the foodservice workforce is expected to be out of work as a direct result of the economic fallout of COVID-19.
This has meant that people who have helped to build and grow one of the UK's most dynamic sectors are now waiting patiently to find alternative employment. The battle for talent has never been lost on foodservice businesses. And neither has the understanding that so many of the people who helped sustain and grow workplace restaurants across the country now need support and guidance through the challenging months ahead.
That's why more than 20 of the country's leading caterers have come together to set up the Food Service Circle (FSC) , a platform to offer guidance, support, a network via social media, and – eventually – a place where they can look for employment back in the sector they helped to build.
Being out of the game for just a few months can make a return quite difficult, thanks to the ever-changing nature of the food business – be it trends, legislation, or behaviours. Continuous learning and development has always been at the core of any foodservice organisation and having to constantly adapt is a strength that has helped the sector to thrive.
TRAINING TALENT
Training is at the core of the FSC initiative. "There is a rich pool of talent available for companies right now and being able to stand out from the crowd will make the difference in a competitive environment," says Dan Corlett, Head of Food Platform, Sodexo UK & Ireland. "Focusing on personal development with training could be a key way to break out of the crowd. If individuals don't have up-to-date skills and haven't used their time wisely, they may find it difficult to find work."
The training and knowledge being offered by the FSC founding companies is broad, ranging from CV templates, letter writing tips, and social media guidance, to health and safety advice and broader insights into how businesses have adapted from industry leaders.
Sue Thompson, BaxterStorey's Client Services Director and a key member of the FSC team, explains: "As a group, we got together to decide what will be crucial and useful for potential employees when the market recovers. We agreed that we should offer both practical advice and tips, as well as broader strategic information about the sector and its developments. That way potential employees can access a broad suite of information, which will help them in the long term."
As part of the FSC launch, each business involved will play host for one week, providing fresh webinar content on the website.
The webinars will feature business leaders, as well as people from all areas of food service, including chefs, operations, regional managers, sales and marketing, and health & safety.
Wendy Bartlett, Founder, Bartlett Mitchell and UKHospitality board member, says: "This was always about giving people access to a wide range of knowledge and skills to help them absorb new learnings within organisations. We're delighted and humbled that so many people have come on board to offer their support. It has been a truly collaborative effort."
It's not just food service operators sharing insights; many associated businesses in the catering supply chain are giving their support.
Among these, Umbrella Training is offering free, up-to-date COVID-19 awareness training; MJ Inspire is sharing a specially developed toolkit for jobseekers; and HIT Training has provided a masterclass in getting a job within the food service industry. All insights and training models are focused on one common theme – making people more employable in a changing marketplace.
Sodexo's Corlett says: "Our traditional markets have been severely disrupted by this pandemic. There are new market entrants and traditional companies in this sector who are having to diversify in order to remain competitive.
"Being adaptive to these changes as an individual will be critical and it is always important to add new strings to your bow. Whether it is a chef considering training on new food diets such as plant-based or vegan, or operational teams enhancing project management skills in agile methodology – it is vital that people understand where their gaps are."
Houston & Hawkes Director Simon Houston agrees: "Diversity will be key over the coming years and peoples' skills will need to change and evolve. As companies pivot their business models, team members' skills will also need to pivot. Cross-training will be key and the divide between back and front of house will be lessened."
NETWORKING ONLINE
But the FSC hasn't limited its objective to just training. The initiative was also developed to create a network, via LinkedIn, Facebook and Twitter, for those who have been made redundant. This network will enable people to share their thoughts, concerns and uplifting stories with likeminded people. What's clear is the FSC initiative is definitely welcomed by the people for whom it was set up.
People like Lucy Tucker, a chef who has worked in large London contracts for 14 years and was recently made redundant as a direct result of a business reducing its capacity. She says: "Losing your job can be incredibly tough, especially when you've had no influence over how this has happened. I've taken a look at a number of the training materials available and they've been brilliant. There are often lots of resources available for other parts of the sector but it's really good to have something dedicated to contact catering."
"There are thousands of people who are in the same boat and it's quite nice to be able to connect with some of these via the channels. The FSC has made me realise that I'm not alone in this.
In a sector known to be fiercely competitive, the current crisis has brought many together. While the pandemic is temporary, better cross-industry collaboration and training is hopefully here to stay.