If you own a commercial kitchen, you'll no doubt know, your kitchen exhaust, flue and kitchen hood are important pieces of equipment that contain mechanical fans. These devices have been created to not only remove heat but remove moisture, any toxic fumes, airborne grease as well as steam and smoke. All of which are byproducts of cooking. 
While some kitchens have regulations stating kitchen exhausts are required, others do not and find themselves with a flue alone. This may not be an issue for some, with some commercial kitchens working perfectly fine with just a flue. What is an issue however is a lack of kitchen deep cleaning on a regular basis. In fact, these are significant risks when it comes to a lack of cleaning for kitchen exhausts, flues and in fact, the kitchen as a whole.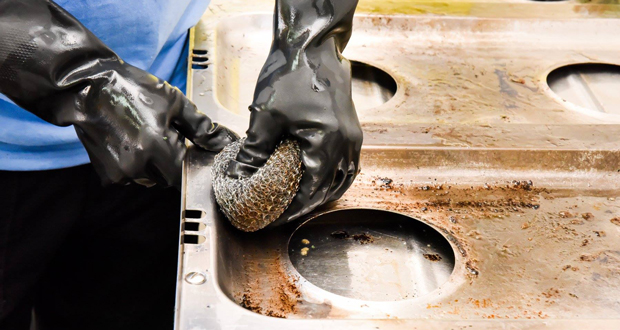 The Risks – What You Need To Know
If you're wondering whether regular deep cleans of your commercial kitchen is worth the expense, here are the risks you could face without them: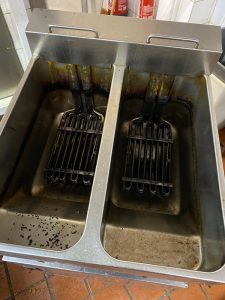 Fire Risk
Risk of fire is one of the greatest hazards associated with a poorly cleaned kitchen. Greasy kitchen exhausts can pose huge risks when it comes to flash fires. Not only could this damage what is undoubtedly very costly equipment but it can also pose a danger to life for those working in the kitchen as well as anyone dining in the restaurant. It's also worth noting not only the costs involved should your kitchen catch fire but the potential problems you could face trying to get insurance cover afterwards along with potential lawsuits from individuals that may have been injured.
Inspection Failures
Dirty kitchen flues, kitchen hoods and other areas are very often viewed as health code violations. This can and often does result in inspection failures. More often than not, you're given a certain amount of time to get the kitchen 'up to code' however, if needed, your local authority may be able to enforce a total shut down until your kitchen is adequately cleaned and able to pass the inspection. Consider loss of sales and reputation along with this too.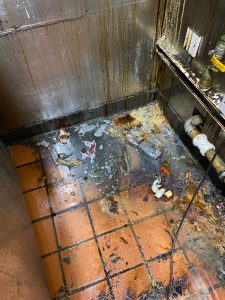 Hygiene/Sanitation
It isn't just the kitchen equipment or food standards that could be at risk when you don't utilise regular kitchen deep cleans, it's also the health of your workers. Proper ventilation is provided by kitchen exhausts. If these aren't maintained correctly, your employees (and customers) health is at risk. Air quality becomes poor, unwanted grease begins to drip onto prepared food and even the dishes on which you wish to serve them. The kitchen may even find itself filled with potentially toxic aromas. 
Environmental Concerns
Kitchen ventilation systems are there to allow for proper ventilation throughout the kitchen and prevent build up of toxic smoke and/or grease. However, it should be noted that when it comes to the proper disposal of grease and other kitchen byproducts, the responsibility lay with the owner of the kitchen. By using a professional commercial kitchen ventilation cleaning company, you are employing someone who will adhere to these environmental laws and dispose of the aforementioned byproducts accordingly; this will in turn ensure you're meeting environmental standards, helping you avoid potential fines.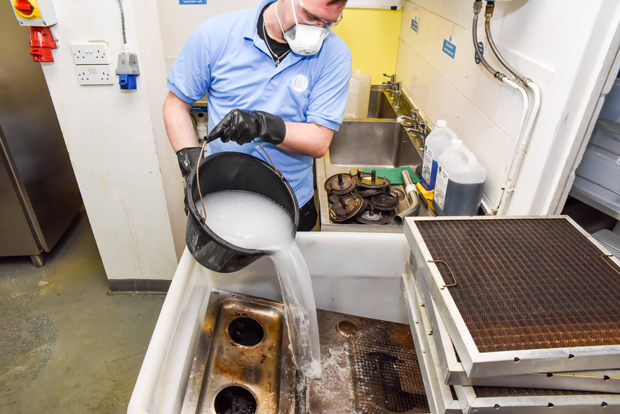 Contact Grease Gone Today
If you'd like more information on professional commercial kitchen deep cleans, we suggest you give Grease Gone a call on 020 88663 413 today. J&I Grease Gone are the UK's leading industrial cleaning specialists and will ensure your kitchen is not only clean but safe for you and your workers.
-ends-
To have your industry news published in the pages of FMJ's news section, Month in FM, and here online on fmj.co.uk, please send your news and image to Danny Grange danny.grange@kpmmedia.co.uk
The view or information contained within these unedited press releases, are that of the company producing it and not necessary the views of kpm.