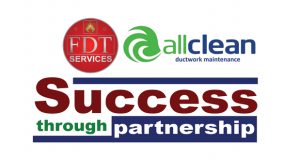 All Clean (Worcester) Ltd and FDT Services are delighted to announce our new and exciting joint strategic partnership. This will enable us to offer over 25 years of experience in providing high quality services to the facilities management sector. Our combined extensive knowledge gives us the confidence to offer all our customers a first-class service – delivered to the highest possible standards.
Our services include:
Fire & Smoke Damper Inspection. These should be checked regularly to ensure they are operational and meet the current Fire and Health & Safety regulations. We provide full photographic reports and our fully qualified engineers can carry out any damper repairs, replacement or remedial works.
Ventilation/Ductwork Swab Testing. This checks to see if there are any germs or bacteria that could lead to potentially harmful pathogenic microorganisms.
Ventilation/Ductwork Cleaning. Ensures clean and safe ventilation systems, that are kept free from contaminations.
Kitchen Extract Cleaning. Very important that the extract system is cleaned on a regular basis to ensure good hygiene and that it meets strict Fire Safety regulations.
Surface Sanitising/Disinfecting fogging services. Kills 99.9% of bacteria and germs to ensure your visitors and staff work in a safe and clean environment. Perfect for offices, canteen and reception area.
All our technicians are CITB qualified. Fire damper inspections are carried out in accordance with BS9999. All work is carried out to BS15780, EC852/2004 and TR19 guidelines. All our sampling procedures are independently verified by South West Water, a UKAS accredited laboratory. FDT Services and All Clean (Worcester) Ltd are full members of NAAD UK.
For more information, please contact us to find out how we can help you with your needs.
Tel: 01905 726727 / 07493 233558
-ends-
To have your industry news published in the pages of FMJ's news section, Month in FM, and here online on fmj.co.uk, please send your news and image to Danny Grange danny.grange@kpmmedia.co.uk
The view or information contained within these unedited press releases, are that of the company producing it and not necessary the views of kpm.