Biotech innovators BioHygiene have once again bucked the trend and manufactured an accredited foam hand sanitiser that contains no alcohol or quats – taking the high ground in a rapidly expanding market that is saturated with harmful, unsustainable ingredients and rogue products.
Manufactured in the UK, the sanitiser boasts an impressive cleaning profile. Killing 99.999% of common germs, it is highly effective against viruses and bacteria, clings to hands easily due to the foam, and offers residual protection – unlike alcohol-based alternatives.
True to the company's principles of environmental responsibility, the product is derived from natural and sustainable technology, whilst being 100% biodegradable and safer for the user than traditional hand sanitisers.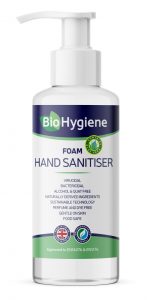 "There is a common misconception that a hand sanitiser must be alcohol-based for it to be effective, this is simply not true – there are other options available," said Dr Carolyn Jones, technical director at BioHygiene.
"As many individuals will have experienced during the last few months, prolonged use of alcohol-based products can lead to dry and cracked skin, whereas our lactic acid-based sanitiser uses beauty industry technology to leave hands feeling soft and hydrated.
"Furthermore, we are beginning to see regular stories in the news of the perils of alcohol-based hand sanitisers, with high flammability being the cause of some particularly disturbing instances. The unprecedented demand has also lead manufacturers of traditional hand sanitisers to see a shortage of raw materials, including gel thickeners. This has resulted in many non-viscous products which do not cling effectively and quickly run off the hands," said Dr Jones.
BioHygiene is a Cardiff-based manufacturer with a strong environmental ethos. Using naturally derived, responsible ingredients, its full product range – including its All-Purpose and hand sanitisers – have seen unprecedented demand during the Coronavirus Pandemic.
For more information visit www.biohygiene.co.uk
-ends-
To have your industry news published in the pages of FMJ's news section, Month in FM, and here online on fmj.co.uk, please send your news and image to Danny Grange danny.grange@kpmmedia.co.uk
The view or information contained within these unedited press releases, are that of the company producing it and not necessary the views of kpm.