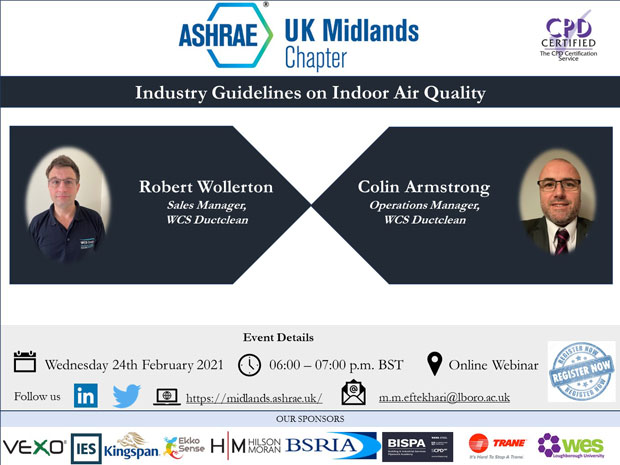 Topic: "Industry Guidelines on Indoor Air Quality"
Date/Time: Feb 24th 2021, 18:00 – 19:00 BST
Join the free webinar on Industry Guidelines on Indoor Air Quality. Indoor air quality has been an important part of building design and maintenance for well over 100 years. Initially the drive for indoor air quality was for people to be able to work in "healthy" buildings to prevent the spread of disease. With the invention of air conditioning this arguably led to the boom in Sick Building Syndrome in the 80s. And then towards the end of the 20th century, the environmental impact of air ventilation and conditioning became the priority with ever greener and sustainable energy initiatives becoming the focal point of how buildings supplied conditioned air. In the wake of Covid-19, it seems that disease control element is now taking the driving seat once more.
About the Speakers
Robert Wollerton has worked in the ventilation hygiene sector since 2003, within a technical role offering specifications, and solutions to clients for managing ventilation hygiene within buildings. The types of solutions offered include ventilation hygiene surveys to assess the cleanliness of ductwork systems, cleaning of general ventilation/grease extract systems, indoor air quality surveys, and fire damper testing. Robert has worked on ventilation compliance solutions to many different types of ventilation systems, within a range of different building environments and uses. His work primarily involves working to standards as defined within, BESA TR/19 – Cleanliness Guide to Good Practice – Internal Cleanliness of Ventilation Systems, BS15780 Duct Cleanliness, and HTM 03-01 – Health Technical Memorandum.
Colin Armstrong joined Ductclean in April 2006 primarily to support the business in Ventilation Hygiene projects which focused on the servicing and cleaning of kitchen extraction systems. After several years of delivering contracts for clients such as the UKs largest supermarket chains, hospitality businesses and NHS, Colin began providing monitoring and ventilation system surveys as well as cleaning of systems. With the ever growing awareness around the importance of air quality in buildings, Colin started to concentrate on talking to existing clients and advising them of the best practice for ventilation systems using industry guidelines. Colin has vast operational experience of maintaining the best possible ventilation hygiene in all types of building and all sizes of systems.
For more information visit https://midlands.ashrae.uk
-ends-
To have your industry news published in the pages of FMJ's news section, Month in FM, and here online on fmj.co.uk, please send your news and image to Danny Grange danny.grange@kpmmedia.co.uk
The view or information contained within these unedited press releases, are that of the company producing it and not necessary the views of kpm.