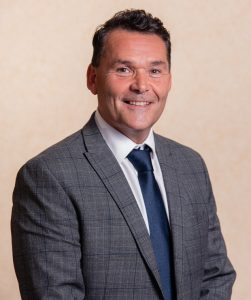 Business leader and electrical engineer, Steve Murray, has been named as the new President of the UK's leading engineering services trade association, the ECA.
Murray jointly owns WT Jenkins Ltd, an electrical contractor based in Liverpool, which he joined in 2000 whilst undertaking a Higher National Diploma in electrical engineering. Six years later, he became co-owner of the business with Tony King.
After serving his apprenticeship, Murray worked for Stark and McCormick for 16 years, carrying out all aspects of electrical installation, maintenance and repair.
Murray has been an ECA Council member since May 2014, having previously been a Branch and Regional Chair for a number of years.
The new ECA Presidential team was confirmed on Wednesday 11 May 2022. Murray takes over the ECA Presidency from David Lewis.
Commenting on his new role, Murray said: "I'm delighted to be taking over this prestigious role, representing ECA as an industry advocate and business leader.
"Our industry faces significant challenges, but I am determined to support ECA's Members and the wider industry to maximise every opportunity in the next 12 months.
"I want to use my time to enable every Member to grow their business, prosper in this uncertain business climate, and be aware of all new initiatives though clear communication and ongoing support."
ECA CEO Steve Bratt added: "We are delighted to announce Steve Murray as our new ECA President. The entire ECA team look forward to working with Steve to further develop what the ECA delivers for its Members, and in support of the wider engineering services sector.
"With Steve at the helm, ECA will continue to push the industry towards better skills and competence, safer buildings, and a greener sector as we move towards Net Zero."
ECA Presidential team
The full ECA Presidential team for 2022/23 is as follows:
President – Steve Murray
Senior Vice President – Sean Smyth
Vice President – Stuart Smith
Immediate Past President – David Lewis