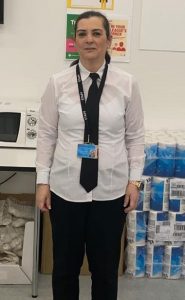 The aspiration:
'Collectively, we can all help create an inclusive world'; the message for International Women's Day, as groups across the globe come together today, on 8 March, to celebrate women's achievements and #ChooseToChallenge with this year's theme.
Diversity and gender equality is an area that the regulatory body for the private security industry SIA and IWFM are actively trying to improve. Following their 2015 research, SIA recognised it being crucial to the future of security by improving industry perceptions and encouraging new talent. SIA has since actively been working with private security providers to implement initiatives and more broadly educate across the FM sector to encourage a more diverse business culture. Similarly, IWFM is increasing employment opportunities and challenging the barriers to inclusion with a Social Value Framework.
Why #ChooseToChallenge lack of diversity and equality in security?
According to Deloitte, diversity improves innovation by 20% and can reduce risk by 30%, supporting smooth implementation and increasing trust. Of course, employing more women doesn't just promote diversity and inclusion it's a healthy advantage to any workplace culture, driving creativity, broader thinking, fresh viewpoints, and financial performance. Women can bring a breadth of different skills, energy levels and dynamics to a team; more should be done to raise the bar, championing the advantages a more diverse team can bring to clients and industry alike.
The global gender-equality situation:
The coronavirus pandemic has decelerated change across many industries, particularly those already male majority. Women's jobs are 1.8 times more vulnerable to COVID-19 related unemployment (McKinsey), higher if also a part of a marginalised community (e.g. BAME women have an unemployment rate of 10.6%, compared to white women 4%), or under-25s. It's estimated the pandemic could set back progress by as much as ten years (NY Times).
Many diversity policies are being pushed down the priority list, while women are increasingly carrying the weight of childcare and household responsibilities. A gender-equality "perfect storm" is brewing, risking the regression of the hard-fought gender-equality work already done.
The security situation:
Looking at recent statistics, security tells a different story to the broader employment landscape. The latest SIA figures report 11.3% of applications were from women. Whilst this reinforces current female underrepresentation in the sector, it is an increase – from 9.2% in 2016 – an encouraging sign of progression, albeit small.
Where in other industries coronavirus risks damaging diversity-progress made within security, this era of change is challenging public perception and priming it for further evolution.
Over the last year, we've seen the security officer emerge from the background of business services, to the frontline of the pandemic response. The responsibilities and expectations of guards have shifted to be active, visible, and communicative, enforcing new safety regulations, and a reassuring presence. Officers have rapidly adapted to implement social distancing, visitor number restrictions, crowd control and the challenges of enforcing these in the face of conspiracy theories and misinformation. These new roles increasingly rely on softer skills – such as communication, empathy, and a mindful approach – which generally are where women's strengths lie.
Could now be the perfect time to ask what more can be done to nurture diversity, capitalising this progressive momentum where others are struggling?
The barriers for women in security and how Expeditious Services is overcoming them:
Many of the challenges faced in encouraging women into security lie in the stereotypically masculine tropes of the job. The industry has long held an image of "large and in charge" guards, long unsociable hours, night shifts, dangerous assignments, with badly fitting uniforms.
Expeditious Services, is proud to have a frontline team with an above industry average ratio at 12% female, supported by a head office team made up of 85% women, with roles spanning HR, QA, Operations, Sales & Marketing. We've created a unique culture to encourage women to not only begin a career in security but stay. Our company values include 'Be You', 'Think Freely' and 'Keep Well', putting the employee front and centre, underpinned by a consistent consideration for wellbeing. Our diversity supports better understanding of the barriers many experience, striving to make the small steps necessary for bigger change.
Our business model is built on agility – lending itself well to flexible shifts for childcare, studying and an autonomous work-life balance. We're open to adapting shift patterns to suit commitments such as school drop-offs, we have a company-wide respect for family and health first and we work collaboratively with clients to ensure uniform is mutually suitable for both the organisation and the workers placed there.
Additionally, our lone worker protection processes provide a reassuring safety-net for any women working on their own, particularly challenging environments. As we grow, we're finding these points of compassion stand us apart, supporting the recruitment and retention of women throughout the business.
Looking more specifically at recruitment, we regularly employ from outside the security industry, bringing a broader skill set to our team. For front-line roles we offer licence application support for a new career; in job adverts we specifically detail the range of people-led benefits; and consistently reassure with our welfare and wellbeing protocols.
Our hourly check calls from account managers make female officers feel safe, seen, heard, and valued. For office roles, we work closely with local recruiters focusing on personal attributes and team fit over sector-specific experience; support development opportunities with defined career progression plans; champion each other, clients, and associates as experts in their fields and role models.
"Although women are underrepresented compared to our male counterparts within the industry, as an innovative, and progressive security business we see many more females at board and all levels in time to come. There is ample opportunity for all!" Anton Shuttlewood, CEO, Expeditious Services.
"We deal centrally with females within Expeditious and would support the wider working with women in FM and security. Expeditious have demonstrated their reliability and professional approach and their communication levels with us, are pitched correctly." Ann Gent, Operations Director, Engie
Looking to the future:
Encouragingly, we're seeing the next generation of female workers rising through our ranks. We have several fantastic women under-30 who came to us new to the security industry and who have now fallen in love with its dynamics and rewards, hungry for pursing industry qualifications and any training available to them.
Akasha Roth (22), Senior Operations Coordinator, started as a temp with Executive Assistant experience several years ago and has rapidly risen to management level, thriving following completion of Leadership & Management and Remote Management CPDs and Cranfield qualifications on the horizon after lockdown. Commercial Administrator Liberty Glennon (26), came to us last year from a credit control background and is passionately pursuing her own licence application to support our mobile services.
What are the next steps for the security sector and gender-diversity?
Collectively, we need to break the mould we've found ourselves in, promote the diverse range of roles available, and champion overlooked divisions such as cyber and tech. Deloitte predict the cyber security industry will be experiencing a labour shortfall of over 1.8m by 2022. As a fast-paced environment, with plenty of career opportunities in a variety of roles requiring critical thinking and emotional reasoning, cyber security is a desirable alternative to the traditional manned security stereotype. Unfortunately, like many other areas of security, Fortinet describe cyber as lacking pay parity, work environment equality and inspiring female role models to lead the way.
We also need to consider the next generation of security leaders and create enticing pathways for younger people to envisage the sector as a reputable career path, with progression and opportunity, not a stopgap to a "proper job". As an industry, we must approach schools and higher education to showcase security as something far more than "big, burly bouncers." Leveraging the influence of female leaders in the industry e.g. Michelle Russell (Chief Executive, SIA) and Women In Security Awards, is another vital step towards inspiring the pioneers of the future.
Conclusion
The impact of the pandemic might be threatening to derail what little equality progress might have been made in some industries. But the progress demonstrated by the SIA applications for the future of security is promising. Now is the time to #ChooseToChallenge for International Women's Day, to take REAL assertive action towards gender equality, and champion women for the unique assets they truly are. Are you with us?
Expeditious Services is a business protection and security company, specialising in working with FMs, as well as championing technology to reduce risk, increase income and protect the future.