Look into the future to rise to the challenge of meeting ever-changing customer communication trends. (Plus, a step-by-step checklist to get you started.)
Communication is key
Communication has always been critical for facility managers and their customers, and that's sure to never change. What is shown to — constantly, and sometimes dramatically — change are the ways in which that communication happens, and the expectations around it.
The pandemic forced most of the world to adjust to an era that requires minimal face-to-face interaction, as well as the rising use of technology to track all sorts of things, from package arrival times to food delivery. Now, facility management and contractors are expected to adapt to those changes, too.
So, it's time: Time to meet your customers' expectations now, and well into the future.
We'll take a look at our predicted 2022 trends for customer communication, and how you can rise to the challenge. We've also included a step-by-step checklist to get you off on the right foot, along with testimonials from our partners that show it's possible to adapt and evolve well.
Trend 1: Increased transparency and real-time updates
They want to be part of the experience — informed before, during, and after an engagement so they can be prepared and plan their schedules accordingly.
If you offer, say, a four-hour appointment window and provide no notice of when a mobile operative will actually arrive, your customer will experience anxiety and frustration, and it'll potentially disrupt half or more of their day. Additionally, if a customer doesn't receive a notification or alert when a technician is on the way, they may be out of pocket or unprepared for the arrival, leading to frazzled customers and technicians at best, and missed appointments at worst. Think about facilities management companies that oversee commercial buildings: Typically, they must coordinate service and repair appointments throughout the entire building with the building manager for access.
The less information everyone has, the more likely you are to experience failed appointments, no access appointments, increased (and disgruntled) call-centre activity, and wasted resources. In fact, the industry average for no-access failed appointments is 15% — which can add up fast.
The Solution
Send customers notifications with information about the appointment and the tech or mobile operative that will be coming, along with pertinent instructions or requirements, allowing them to prepare in advance. Include any special and specific information like, "Clean the perimeter around the leaky pipe," or "Ensure access is provided to all areas that require service."
Send reminders on the day of the appointment, when the tech is on the way, and when the tech is approaching the customer. These can be automated notifications that come via SMS, email, push notifications, or landline calls, and they can be triggered when tech is en route. Including real-time tracking via a map enables customers to see exactly where the mobile operative is located and be prepared.
Localz' client United Living Property Services, for one, estimates that its implementation of real-time appointment updates has reduced no-access appointments by 45%.
Trend 2: Two-way communication
Customers want to get in touch if they need something, and they want to get in touch ASAP. Put them on hold with your call centre with elevator muzak, or offer up a questionable email address, and they'll feel it's a solid indication that their question is going straight into the abyss, never to be seen or heard.
They expect speedy communication, the ability to adjust things on their own according to their schedules, and access to their technician on the day of the appointment — just in case. They also expect to have multiple ways to reach their operative, like via phone call, text and a message portal. (Keep in mind that many people don't like phone calls nowadays, so give them ways to get in touch that are comfortable for them, such as SMS.)
Providing two-way communication is crucial because customers need to be able to let a tech know information like important changes to their schedule, access instructions, or that they just need an extra minute to get to the door. When they can't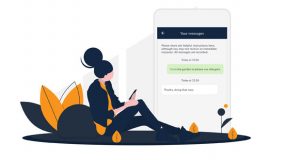 offer these details, a customer may leave the appointment site, or be too slow to answer the door, and end up accidentally missing their appointment, leading to unnecessary stress and delays.
The Solution
Enable two-way communication between customers and your mobile operatives with a web-based customer portal. This eliminates the need for a customer to use their personal phone number for SMS, and for a ring to the call centre. They can pass along info like gate codes, access information or directions, or indicate that they are running 5 minutes behind, which all increases first-time access and reduces inbound calls.
Add the contact centre into the chat. Ensure customer messages aren't missed by operatives by incorporating multiparty chat options so that the contact centre can join the conversation when needed.
Learnings from another sector: Localz' partner Welsh Water experienced 50% fewer chase calls for wastewater appointments after implementing last-mile tracking and customer engagement technology.
Trend 3: Self-service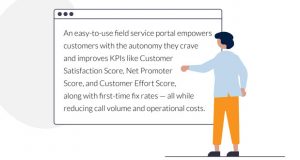 It's like Frank Sinatra sang: "I did it my way."
When it comes to their appointments, customers want the ability to self-service. They want to see what's going on with their appointment, make adjustments to time slots if necessary, or reschedule completely. They don't want to have to call someone to make changes to their appointment or to let someone know new developments that come up with their issue.
Providing them with the flexibility to add information or provide updates to a situation can ensure mobile operatives have all the details they need when they arrive, reducing the need to come back later.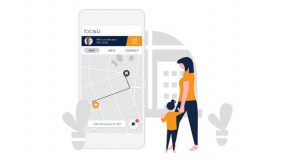 The Solution
Enable self-service options. When a customer can let you know important details ahead of time, or that they need to reschedule or cancel, you can increase the likelihood of a successful appointment.
One way to do this is to offer a field service portal. An easy-to-use portal keeps everything in one place for both you and your customers and empowers them with the autonomy they crave. You'll see KPIs like Customer Satisfaction Score (CSAT), Net Promoter Score (NPS) and Customer Effort Score (CES) improve, as well as increase first-time fix rate, and reduce call volume and operational costs.
With Localz' Manage My Appointments, you can customise your portal with different modules like Appointment Preferences, Technician Profile, Job Details, Universal Information Cards, Job Stock Information, and more.
Trend 4: Post-appointment engagement
The end is just the beginning. That's because the service doesn't actually end when the appointment does: Customers now expect service to continue to the post-appointment stage to round out their experience. In fact, 41% of customers want to rate the services they received.
Your customers have a lot to say — both good and bad — and they don't just want to be heard; they want to see that their words evoke action or create change.
Usually, they want to provide feedback immediately after an experience, but they don't want to give it directly to the mobile operative — they might feel pressure or awkwardness to not fully express themselves — and if they give feedback days or weeks later, they may forget the details or only remember the negative aspects of their experience.
When they can provide feedback immediately and securely, you receive more accurate responses and have the ability to take action on mistakes, such as refunds or apologies. Post-appointment engagement (or lack thereof) will colour their perception of your company and their experience, which in turn will impact long-term loyalty and lifetime customer value.
The Solution
Send customers a geo-triggered feedback request as soon as the tech leaves the property. This lets customers express themselves while the appointment is top of mind without being swayed by the presence of a mobile operative, and offers a socially distant option that makes customers feel safe.
Set up negative feedback alerts to office staff to ensure prompt service recovery. This enables you to act quickly to remedy the situation or provide actionable next steps, as well as simply let the customer know they've been heard. Their feedback will be tied directly back to their operative so that you can decide where in your process you may need to make changes.
Immediate post-appointment engagement also removes the need for third-party feedback or follow-up services. Localz' client Welsh Water, for example, added a configurable tickbox to the end of its feedback form asking customers if they required a follow-up call, and 83% of customers opted out. In the housing sector, Localz' partner Vale of Aylesbury has achieved an average customer rating of 4.5+ stars out of 5 by introducing a feedback form.
About Localz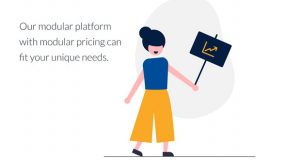 Our modular platform with modular pricing can fit your unique needs.
Localz is here to set you up for success and make the day of service smooth and extraordinary. We support you in meeting your customers' expectations — and exceeding them — keeping up with the ever-changing demands of customer communication.
Our customisable solutions enable you to keep in touch with customers before, during, and after appointments through features like On My Way real-time tracking, Chat My Way two-way communication, and Rate My Experience feedback forms. Bolt-on configurability and prebuilt integrations make implementation and scaling easy; we do the heavy lifting for you.
We're all about making sure you send the right message at the right time so you can create the best customer experience possible, all while increasing access.
Customer communication checklist
Here's a helpful, step-by-step checklist to help you know when to send reminders and notifications to your customers, and what those notifications should say.
✅  Prior to the appointment
Send an appointment notification with information about the job and mobile operative, specific instructions or requirements, and a link to the self-service portal.
Benefit:
Self-servicing information reduces call volume to the call centre, as well as operational costs.
✅  Day of the appointment
Send an appointment reminder that lets customers know how to access support if they need it, as well as provide additional information, changes, or updates to the situation or the access instructions. Let them know how to access support and provide new info if needed.
Benefit:
Day-of reminders reduce costs, wasted resources, and the potential for frazzled customers, and increase first-time access and successful appointments.
✅  Technician/ mobile operative is on the way
Send a notification to customers letting them know their tech or mobile operative is on the way that includes an ETA and real-time tracking.
Benefit:
When customers can prepare for their tech's arrival and track their location, it reduces inbound calls about confirming ETAs.
✅  Technician is approaching
Enable two-way communication via a web portal between the customer and their technician so they can share entry directions, access details, social distancing preferences, and more.
Benefit:
Two-way communication increases access rate and boosts efficiency.
✅   Appointment is completed
At the close of their appointment, once their technician has left the premises, send a notification to customers prompting them for feedback.
Benefit:
Immediate feedback prompts allow customers to be honest while the visit is still top of mind, and on the back end, real-time alerts for negative feedback allow you to act promptly to resolve any issues and reduce future costs.
Localz' client testimonials
"The difference we have seen has been significant, and the results have been really beneficial to our business. We have improved productivity, both on the road and in the call centre, and reduced associated re-work time such as additional travel and time spent contacting customers to rebook appointments."
— Jonathan Evans, Business Improvement Manager, United Living Property Services

"If you're looking to improve the customer experience, there's no reason not to use Localz. We chose the platform to improve the customer experience and saw additional benefits such as a reduction in missed appointments and increased response to feedback."
—Andrew Rysdale, Assistant Director of Property, Vale Of Aylesbury Housing Trust

"It was a big foray into digital for our operations, but Localz made it easy. Driver feedback is a game-changer for us and provides a wealth of information. Previously, negative feedback would be directed to a sales colleague and escalated over a matter of weeks. Now, customers get a call from a senior manager within 30 minutes, to see what we can learn from the experience."
— Michael Alldridge, Operations Director for South West and Wales, HSS Hire 17
-ends-